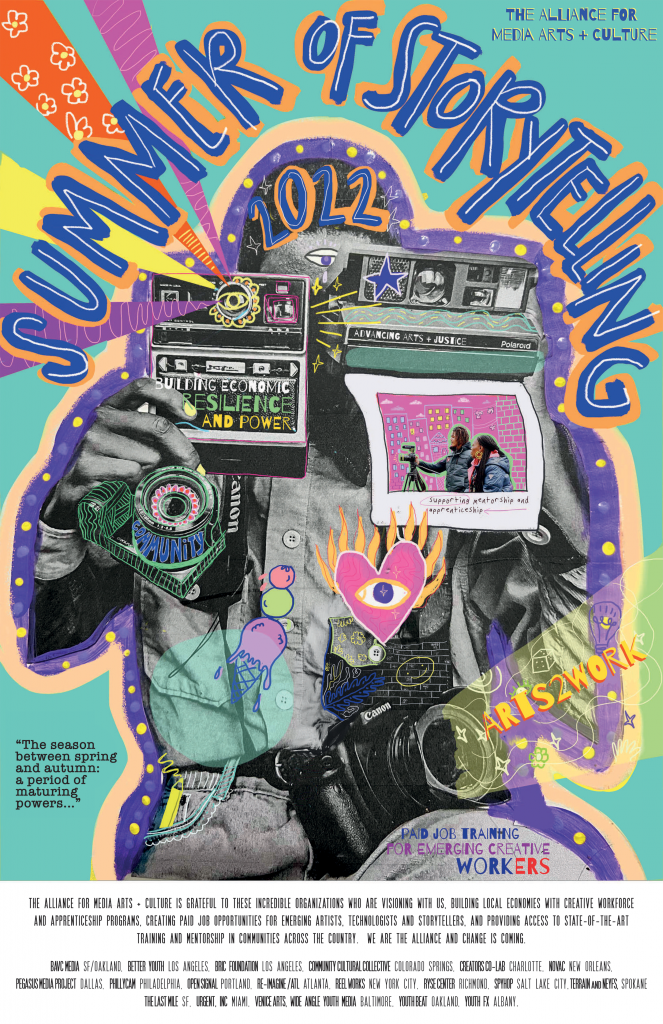 As we move into fall, I'm excited to preview our beautiful Summer of Storytelling poster, designed by Colombian artists Alejandra Chacon and Valentina Vargas. We are planning to offer posters and note cards for sale in a few weeks – it's never too early to secure some unique and artful holiday gifts for the storyteller in your life. Keep your eyes on social media and the Alliance website for links to purchase.
The other exciting announcement this month is that we welcome two new members of the Alliance Board of Directors, Cassidy Arkin and Edgar Burch.
Cassidy Arkin is an award-winning producer and storyteller with substantial experience in broadcast television production, digital media and live events. As a producer she specializes in magazine-formatted shows, entertainment, art & culture, documentary and music. Her work seeks to disrupt, engage, and find original ways of storytelling and reaching new audiences. Cassidy's natural curiosity and enthusiasm has taken her from MTVNews and Specials to ABC's Good Morning America, Weekend Vibe at NBC, and The Cannes Lions International Festival of Creativity.  Awards include the NABJ Salute to Excellence as the producer for Best 2015 National Diversity PR &Marketing Campaign, J. Walter Thompson 2014 Innovator of the Year Award and IFP Documentary Lab Fellow. Cassidy served as a Producer  for the Alliance XR Culture Gallery last year, and the first VR exhibition for Oculus, Ancestral Futurism: Unapologetically Melanated.
Edgar Burch is a principal in The Raben Group's Government Affairs and Policy Counsel practice area. With nearly two decades of experience advocating at the state and federal levels, he has developed a deep understanding of how to effectively build coalitions, engage on high-profile issues, and provide strategic advice to position clients for short and long-term success. Prior to joining Raben, Edgar served as the director of government relations for the National Collegiate Athletic Association (NCAA), where he engaged federal and state lawmakers on diverse policy matters impacting nearly a half-million student-athletes, one thousand schools, and the NCAA national office. Edgar worked with colleges and universities, higher education associations, and professional sports leagues on issues of common interest before federal agencies and the House and Senate Education, Commerce, and Judiciary Committees. Edgar has been a key advisor to the Alliance, planning our Arts2Work Congressional briefings and guiding equity and partnership strategies in our creative workforce program expansion.
I'm writing this month from Los Angeles and the International Documentary Association's Getting Real Conference. I'll be on a panel on 9/29 at 3:15PM — Evolving Mandates in Public Media. If you are attending in person, please come say hi at the Director's Guild on Thursday. I'll be there all day and would love to connect with Alliance members and partners.
Join the Alliance, it's easy
As always, please be in touch.
Notes from the Field
Times Union Feature's Youth FX's Arts2Work Fellowship
In a recently published piece by Katherine Kiessling for Times Union, The Alliance Arts2Work partner Youth FX's new fellowship program was profiled. The piece included conversation with organizers and participants, showing how the program which offers cameras, computers, software, and mentorship to young Capital Region artists breaks through financial and technical barriers that keep marginalized voices from making films. "There's a reason why films are made by mainly white people, why studios are run by white folks who have legacy history, historical money," said Bhawin Suchak, Youth-FX co-founder and co-director to Times Union.

NBCUniversal Launches Creative Impact Lab
Last week NBCUniversal announced it was Launching its Creative Impact Lab. The Lab seeks to advance nonprofit storytelling by offering grants to media nonprofits representing under-represented communities to produce short videos for nonprofit partners. Those selected include multiple The Alliance members and affiliates such as Spy Hop,  RE:IMAGINE, PhillyCAM,Youth FX, and  Wide Angle Youth Media.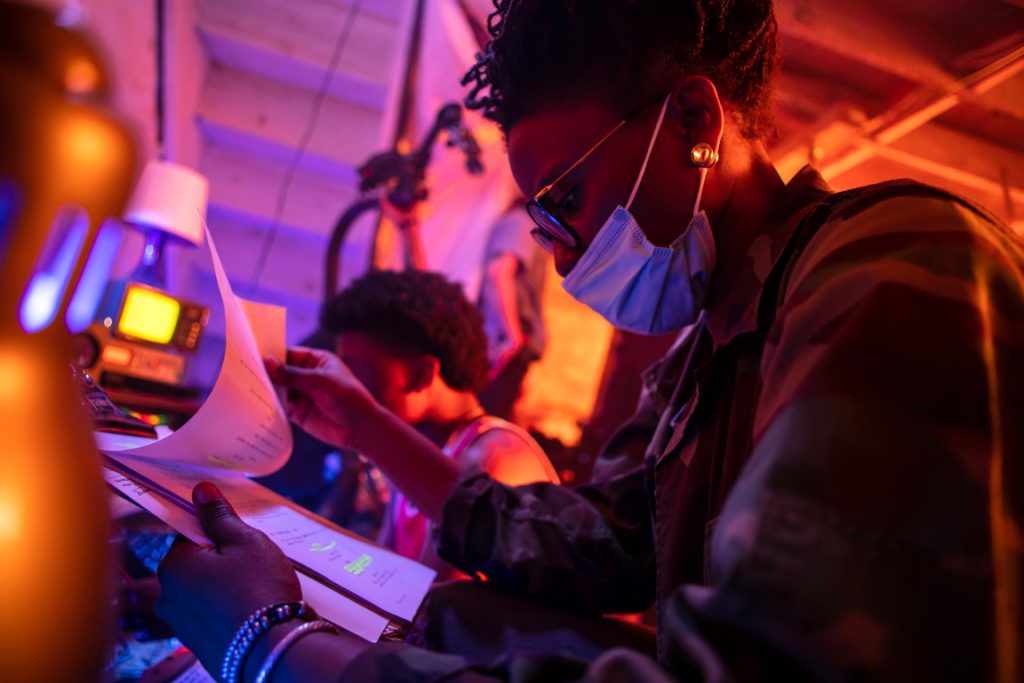 Grants and Calls
Blackstar Philadelphia Filmmaker Lab
Blackstar is offering an opportunity for new and mid-career BIPOC filmmakers from Philadelphia to participate in their year long filmmaking program. Four producers and four directors will be selected to receive intensive mentorship.
Deadline: September 29th

Screencraft TV Pilot Screenplay Competition
Screencraft is accepting scripts for TV pilots for the opprotunity to participate in Screencrafts Writer Development program — introducing candidates to Hollywood literary managers and offering expert mentorship as well as $500 in cash.
Deadline: September 30th

Merata Mita Fellowship
Indigenous woman artists who seek to direct a film are invited to apply for The Sundance Insitute Merata Mita Fellowship for Indigenous Artists. The fellowship is a tribute to the memory of former Sundance advisor: Indigenous artist Merata Mita. The Fellowship will offer a full year of support from Sundance as well as cash grants.
Deadline: October 3rd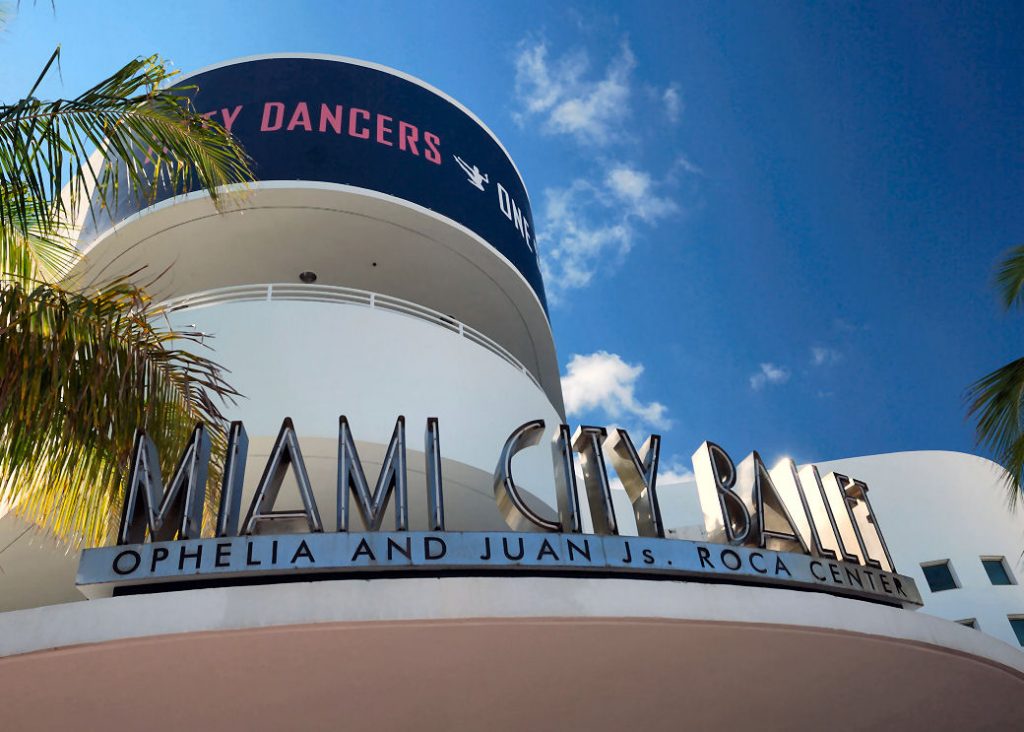 Job Bank
Digital Marketing Coordinator, Miami City Ballet, Miami Beach, FL

Arts Grants Writer Miami City Ballet, Miami Beach, FL

Digital Marketing & Distribution Specialist Smithsonian Folkways Recordings, Washington DC

Program Assistant, Chicken & Egg Pictures, Brooklyn, NY

Digital Marketing & Distribution Specialist, Smithsonian Folkways Recordings, Washington DC

Media Relations and Outreach Director Environmental Film Festival in the Nation's Capital, Washington DC

more jobs on the Job Bank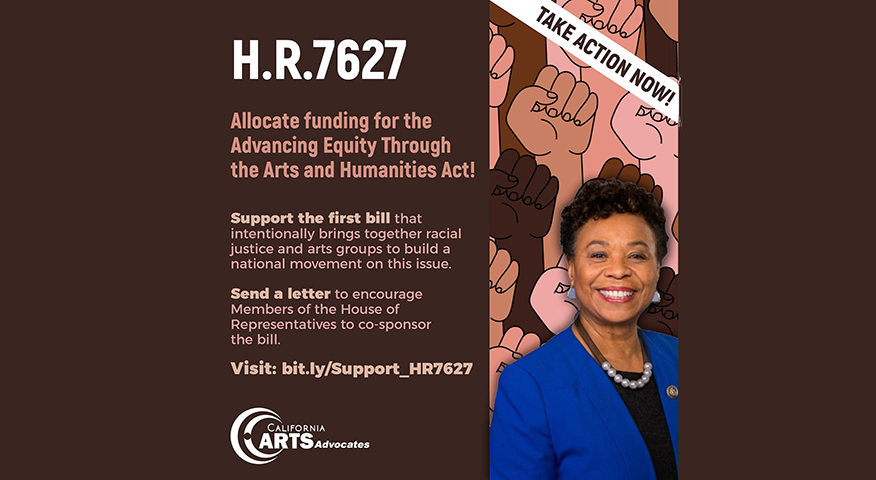 Media Policy Watch
by Priscilla Genet
In April, California representative Barbara Lee introduced Advancing Equity Through the Arts and Humanities Act . The act seeks to utilize the National Endowment for the Arts and the National Endowment for the Humanities to create grants to push for arts participation for those who face systemic barriers blocking access ."Dismantling structural racism through the arts and humanities is critical to the health of our nation" said Representative Lee on the bill. Those who wish to support the bill are encouraged to use this form to send a letter to Members of the House of Representatives encouraging them to co-sponser the bill. Organizations and artists are encouraged to sign their names to the list of supporters.

Earlier this month, President Biden announced his intended appointees to the President's Advisory Committee on the Arts. The committee participates in sustaining the John F. Kennedy Center for the Performing Arts, considered by The Center to be Ambassadors for the Arts. Those appointed represent a broad range of leaders from museum leaders to media industry veterans, including Carri Belinda Twigg,  Director of Public Engagement during the Obama administration for then Vice President Biden, and co-founder of Culture House Media, a company that " specializes in storytelling about urgent cultural questions " according to Deadline.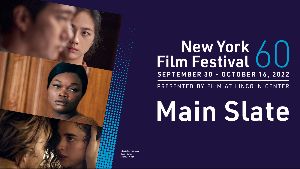 Workshops, Festivals, Convenings
New York Film Festival September 30th-October 16th, New York, NY

Sight + Sound Festival September 30th-October 2nd, Oxnard, CA

San Jose International Short Film Festival September 6th-9th, San Jose, CA

Manhattan Short Film Festival September 22 – October 2nd, Manhattan, NY

Wild and Scenic Film Festival September 28th, West Chester, PA

Philadelphia Film Festival — October 20th-30th, Philadelphia, PA