Getting the Champagne Out of the Bottle,
Opening Archives, Connecting Creative Culture
By Jocelyn Arem

Today as we face geographic and financial challenges to creating new content, many artists and organizations are turning to archives as a way to maximize existing resources. Independent creatives and organizations are looking more closely at their collections and how they can be used, as they refine storytelling tools to connect with dispersed audiences. What archivists and archival storytellers have always known is gaining global attention: archives are the lasting treasure troves of our shared cultural heritage and the stories they contain connect us as a global community, through time and space, especially when we can't be together in person.
In early 2020, thanks to support from the MacArthur Foundation, The Alliance Open Archive Initiative began actively exploring the successes and challenges of preserving and opening still and moving image media collections. We invited 41 diverse, intergenerational cultural preservation and storytelling practitioners, scholars, thought leaders and artists from around the world for the first phase of the initiative that we call Gathering Wisdom. We held three gatherings — two virtual, one in-person before COVID — to collect and synthesize emergent, accessible, and collaborative strategies and practices for digital archives that center the voices of artists and communities. This process was designed to bring together this community of practitioners, and thoughtfully interrogate advances in technology and social practice that could be leveraged to create transformative preservation and access solutions. Opening archives for film, video, photography, audio, embodied knowledge, interactive and hybrid media requires a values-laden understanding of the challenges around access — from basic preservation services, intellectual property laws, cultural equity and inclusion, to creative reimagining projects and utilizing advances in technology. We began this work with a collective understanding of the complexities, and a wide range of experience in the field.
In our meetings, four main themes emerged:
1. Lack of Representation/Inclusion
WHO is telling and preserving stories? Miranda Lowe, Principal Curator at The Natural History Museum London presented on her work with Museum Detox, a collective network for people of color in the UK who work within the Museum sector. Reflecting on the great need for the solidarity this group provides, Miranda noted, "Other museums are now calling on us for help decolonizing spaces, creating curriculum, looking at the narratives embedded within museum institutions." The group has been successful in shining a light on the need for institutions to embed diverse stories, improve representation in their curatorial staff and properly credit collections. Yvette Ramirez, Masters Candidate at The School of Information at The University of Michigan posed the question, "Rather than only offering documentation for evidence sake, how can archives decolonize frameworks and create real institutional change?
" "Rather than only offering documentation for evidence sake, how can archives decolonize frameworks and create real institutional change?.
Xaviera Flores, Librarian and Archivist at UCLA Chicano Studies Research Center echoed this need for inclusive archival spaces, "In the profession we talk about community archivists meaning archivists working with community, but not about community members working with archives. It needs to be more like that." When community collaboration happens, the results can be extraordinary, as Ron Haviv and Lauren Walsh exemplified in their project, Lost Rolls America, a visual tapestry of America's past. Lauren shared, "Collective community curation allows us to see trends and motifs, shared stories and values, a unity of themes and styles. You start to see these only when you grant the power of representation to the public itself."
2. Lack of Institutional Support
HOW are organizations and artists getting the resources they need to properly preserve and make archives accessible, usable, continuous and transformative? Yuri Shimoda, UCLA lecturer in Audiovisual Archiving (who calls being an Archivist akin to being a "Time Travel Facilitator") noted, "We as archivists care not just for the sounds and the moving images embedded in audiovisual material, but also the meaning imbued onto the recording by the communities in which they originate. Yet many institutions fall short in accurately describing the meaning to their communities. Collaboration with communities to describe and determine access is something all institutions should be striving for." Filmmaker, journalist and educator Ann Bennett stressed the limitation of access due to lack of comprehensive digitizing, "Many times institutions only have part of a collection digitized or available online. So it's important to remember that's just the beginning of your search." The group also found that institutions fall short when it comes to creating best practices for embodied archives. Cori Olinghouse, interdisciplinary artist, curator, archivist and founder of the Portal noted, "Museums are the custodians for better or worse for performance histories, but there's not an inclusive strategy for how to care for the deep aspects of embodied knowledge."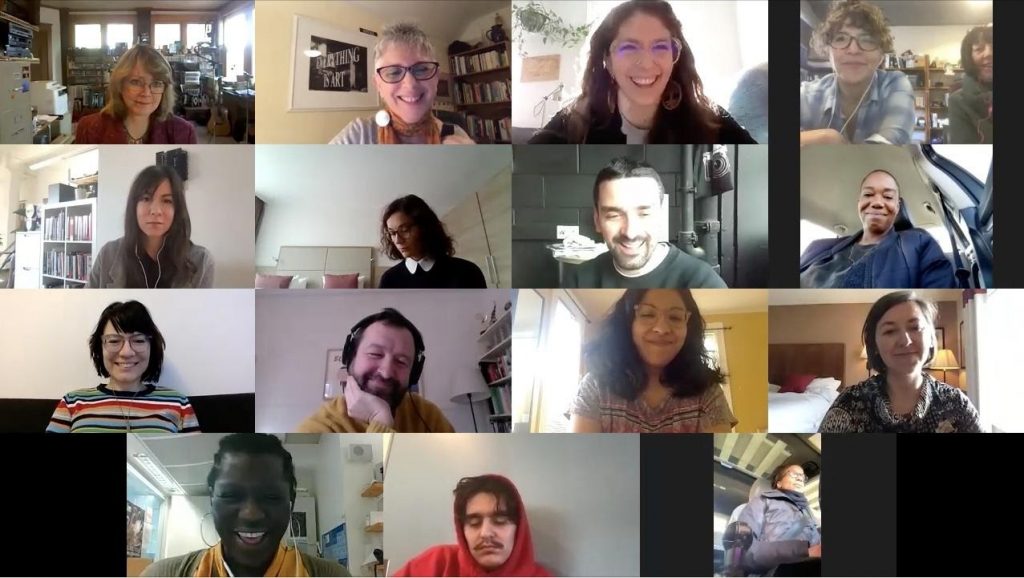 3. Ephemeral Nature of Digital Platforms and Embodied Archives
WHAT can organizations and artists do to keep pace with emerging technologies and best practices of preserving and opening archives? Vincent Morisset, Director and founder of the studio AATOAA spoke about his work to investigate the ephemeral nature of multimedia preservation formats preventing ongoing access to creative work, urging us to remember that "Archives are not just content, but also the formats they come in." He shared that the lack of people power when working collaboratively with organizational stakeholders is an important element in preserving work "When people leave jobs, your connection with the entity is not there anymore…and colleagues in the community don't seem to care about the urgency. There's no protocol. Some projects will need to hibernate until a solution is found." Joyce Joseph, artist, activist and founder of Archival Alchemy shared a similar insight into the ephemeral nature of embodied archives and a need for best practices, "Tangibility is a luxury in many communities. There weren't always things you could carry from one place to another but that didn't mean you didn't take things with you, that may come out in your song, dance, food, hair. There's such a push towards digital, but we don't know yet what will happen to digital in 20 years. Digital can have a lot more fragility than the tangible or embodied things."
4. Lack of Touch Points for Accessibility
HOW can organizations and artists creatively open their archives? Jennifer Cutting, Folklife Specialist at the Library of Congress, spoke about her passion for developing new user communities, "Our former Librarian of Congress James H. Billington used to refer to our efforts to provide public access to our collections as 'getting the champagne out of the bottle.'" Her Archive Challenge program enables creative artists to "imbue archives with their own style and creativity, presenting them to an audience that would appreciate both the collection material and the performances." Artist Jessi Jumanji reflected on her own path to reimagining archives, "Growing up, I was always dissatisfied with the way history is presented – behind the glass. Archives seem like a cemetery for information. The index is like a eulogy. People don't look at archives as a space that is alive and well. My art re-contextualizes archives and gives them a new life. Archives will be revolutionized when we start putting access points everywhere." Jason Wyman, Artist and Senior Producer for the Alliance Youth Media Network noted the important underlying issues at stake in the conversation on reimagining practices, "We're talking about the difference between the law and ethics and not conflating them. Working with young people, everything is remixed. The larger question isn't whether remixing is good or bad but what are the ethics of your remix?"
Our main discovery in each of the meetings was that without real strategic effort to unite our collective voices and share workable strategies with one another, the media arts field as a whole will continue to lose valuable storytelling content to these core issues, exacerbated by the newest economic challenges our world is now facing. Together with a shared purpose to exchange information, support one another in developing and teaching best practices that center the voices of communities, and highlighting advances in technology with an eye towards ethical practices, we can work as a collective force to support the field in finding its lost stories.
Other Issues We're Working Through:
Ethical Considerations:

When archives document social movements, how do we consider the human rights framing? Do we take a step back from preserving and opening archives to rise up these voices when in doing so, people could be targeted and at risk?

Who are archives for?

If we start to center this question, can we build a framework and a paradigm shift where archives can be more thoughtfully returned back to the people?

Cultural consent in different cultural contexts:

Xaviera explained, "It's important to note that ownership and copyright are our government's creation. How is it in someone else's culture? What if that doesn't exist?"

Collaboration best practices:

How do we create cohesive strategies both between grassroots groups and institutions, and between preservation and storytelling disciplines to prevent fragmentation in the field and bring disparate voices to engage in conversation? The disbanding of community engagement is an epidemic of project-based thinking; Alliance Director Wendy Levy urged the group, "This work must be more of a movement, a systems- change approach where communities are embedded in the arc of the work."

Intellectual Property:

How do artists, media organizations and other rights holders develop the capacity to engage strategies for assessing ownership and usability of archival holdings?
In the coming months, our participants will stay connected, engaged and collaborating, honoring collective voices by working towards best practices and innovative new approaches that have the potential to impact the field on a deep and lasting level. We are exploring creating an open digital archive, and re-imagining and re-activating orphaned footage and social histories in a contemporary, cultural context. Please get in touch if you'd like to learn more about how to get involved.
Learn more about the Alliance Open Archive Initiative here:
http://www.thealliance.media/alliance-open-archive-initiative/
Jocelyn Arem is the Consulting Producer for the Alliance Open Archive Initiative. She is a GRAMMY, ASCAP, and Library of Congress Award-nominated archival storytelling producer and founder of the creative studio Arbo Radiko.