ALLIANCE OPEN ARCHIVE INITIATIVE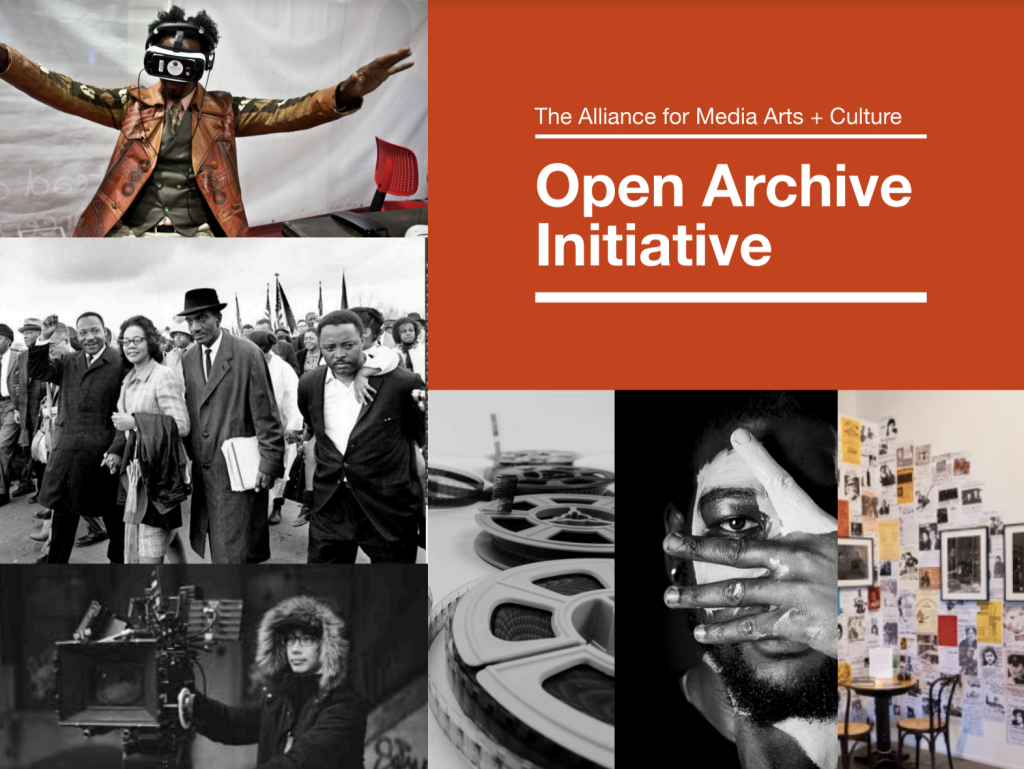 Independent media organizations around the world may reflect the diverse cultural identity of communities, but they may also be rendered invisible because the content and stories generated are not being preserved, let alone shared openly. And we live in a world where open sharing of content may result in harm to the artists, producers and journalists who create the work, and well as the subjects who inhabit the stories. Despite advances in technology, media/culture archives are deteriorating at a rapid rate and stories are being lost forever. We felt an urgent need to collaboratively address this issue as a field, to find a collective voice, and to strategize emerging and best practices for creating impactful community-based preservation and access solutions.
The Alliance Open Archive Initiative brings together a group of cultural preservation and storytelling experts with independent, institutional and community-based content creators to collect and synthesize highly accessible, collaborative strategies that address three urgent core questions in the field today:
WHO is telling and preserving the stories?
HOW are organizations and artists addressing the challenge of getting their material preserved and making it accessible, usable, continuous and transformative?
WHAT can organizations and artists do to keep pace with emerging and best practices of preserving and opening their digital archives?
In this first year of the initiative, we are gathering the wisdom from the field in a series of in-person and virtual conversations, with some visionary archivists, technologists, culture bearers and storytellers. After this research phase, we will look towards systemic solutions, and what is needed to preserve and open the collective archives of our communities.
Lead Producer/Facilitator:
Jocelyn Arem is a GRAMMY, ASCAP, and Library of Congress Award-nominated archival storytelling producer and consultant. Her work has been featured in The New York Times, Rolling Stone, NPR, PBS and during GRAMMY Week in Los Angeles. Her clients and collaborators include the Library of Congress, the GRAMMY Foundation The School of the New York Times, The Alliance for Media Arts and Culture, Narratively, Sony Legacy, powerHouse Books, BRIC Arts Media, New Orleans Jazz Festival, Caffe Lena and the Erroll Garner Jazz Project. As the owner of creative studio Arbo Radiko and the Consulting Producer for the Alliance Open Archive Initiative, her unique specialization is in helping creative organizations and artists reimagine historical assets as valuable modern day content; curating, crafting, and leveraging distinctive modern day material from archival collections to enhance publicity, strengthen cultural partnerships, build brand value, engage new audiences, and promote creative legacies. She curates and produces a wide range of catalogs for bespoke print and digital publications, video, album projects, and exhibitions and is an expert in navigating the transformation of primary source material into valuable marketing content. She has been invited to lecture at MusiCares, the School of the New York Times, the Library of Congress, the NYU Music Technology Program, the Center for Documentary Studies, and the EMP Pop Music Conference. She is also a recording and performing artist under the name Rabasi Joss.
Participants:
Aden Suchak is a Director, Photographer and Writer based in Upstate New York. He is part of the Youth FX film organization in Albany where he works as a film producer and Director of Education. He is a Media Fellow of the Alliance for Media + Culture Youth Media Network Initiative.
Caroline Rubens is the Archivist at Appalshop, a central Appalachian media arts center that is celebrating its 50th year. She manages the organization's institutional and donated holdings of audiovisual, photo and paper materials, facilitates access to the collections, and helps to plan and execute public programming. She works with the Archive Director to raise funds from public, private and individual donors. In 2017 Rubens served as a co-coordinator for an Allied Media conference track entitled "Disrupting Mainstream History: Memory Keeping, Storytelling, and Archives." She has presented at professional and academic conferences on topics ranging from the history of Appalshop to the creative re-use of its archival materials. She holds an M.A. from NYU Tisch in Moving Image Archiving and Preservation ('06), and a B.A. in English Literature from Columbia University's School of General Studies ('97).
Casey Davis Kaufman, Associate Director, WGBH Media Library and Archives & Project Manager, American Archive of Public Broadcasting is an audiovisual archivist, project manager and independent consultant who focuses on open access, community archives and oral history, and creative engagement with cultural heritage content. Her professional experience spans audiovisual preservation and access in the broadcast media industry and in higher education, with a particular focus on public service programming and community oral history. Casey currently works for the Boston public broadcaster WGBH as Associate Director of the WGBH Media Library and Archives and Project Manager for the American Archive of Public Broadcasting (a Library of Congress and WGBH collaboration), as well as Project Manager for the "Rising from the Ashes: Chimney Tops II Wildfires Oral History Project" at the University of Tennessee Knoxville. She has worked in digital production for PBS' flagship history documentary series American Experience, as an Archives Consultant for the climate action non-profit DearTomorrow, and is an active member and recent board member of the Association of Moving Image Archivists.
Floriane Azoulay, is the current Director of the institution which was founded shortly after the war as the International Tracing Service (ITS). A French human rights expert, she was appointed head of the institution by the International Committee (IC) of the Arolsen Archives in 2016. Steffen Baumheier became Deputy Director in 2017.
Jamie Brett: Creative Projects at the Museum of Youth Culture,I graduated with First Honours in BA Photography in 2013, after a short stint working as a freelance photographer's assistant for commercial photographers and artists. For the last 7 years I've worked closely with founder Jon Swinstead on the journey developing a Museum of Youth Culture from an already incredible archive of over 150,000 photographic submissions, objects and ephemera extensively celebrating British social history over the last 100 years from Bikers to Mods to Ravers. It's our job to build this new museum unbiased and free from the often misaligned agendas of wider institutions, challenging the media moral panic around youth culture and shaking up the museum sector. Supported by Heritage Lottery and Arts Council funding, the Museum of Youth Culture has worked with a plethora of cultural institutions and international brands so far such as Google, Tate, Mayor of London, Time Out & Fred Perry.
Jennifer Cutting combines a career of preserving and presenting folk and traditional music at the Library of Congress with a career of bringing it to new audiences as a successful  performer, producer, and recording artist. A Folklife Specialist at the American Folklife Center since 1986, her primary work at AFC is guiding researchers through the collections of the Archive of Folk Culture, and producing on- and off-campus "Archive Challenge" showcases of contemporary artists performing adaptations of field recordings they discovered in the American Folklife Center Archive. She is the writer and producer of the Library of Congress's documentary webcast _Bringing in the May_ (a documentary investigating celebrations of May Day and other springtime traditions); producer of the CD _Music and Spoken Word from the Archive of Folk Culture_ (audio companion to _Library of Congress American Folklife Center: An Illustrated Guide_), and the author of six editions of _American Folk Music and Folklore Recordings: A Selected List_. (1987 through 1992, Washington, D.C.: Library of Congress). Jennifer's academic background includes a Masters degree in ethnomusicology from King's College, University of London. A pioneering bandleader and performer whose work in nurturing an Electric Folk revival in America earned her a chapter in the new Oxford University Press book _Electric Folk: The Changing Face of English Traditional Music_, Cutting has won 20 WAMMIES (Washington Area Music Awards) for her work directing and performing with both her contemporary Celtic group the Ocean Orchestra, and British folk-rock group The New St. George. The combination of Cutting's skills as a reference specialist, traditional performing arts producer, and respected folk musician places her in demand as a presenter, grants panelist, conference speaker, and folk music adjudicator.  
Jina Valentineis a visual artist and Associate Professor of Printmedia at SAIC born in Philadelphia, now based in Chicago. Her independent practice is informed by the intuitive strategies of folk artists and traditional craft techniques, and it interweaves histories latent within found texts, objects, narratives, and spaces.  Jina's work involves language translation, sourcing and mining content from material and digital archives, and experimental strategies for humanizing data-visualization.  She is interested in the organizational structure of archives, collective content creation, and how metadata contributes to informational hierarchies (what's visible, what's accessible). Jina cofounded Black Lunch Table with New York based artist Heather Hart in 2005 at Skowhegan.
Along the way I have always found myself on a cultural journey creating amongst others award winning zines SleazeNation and JockeySlut focusing on irreverence in youth culture, fashion music and lifestyles.  Founding of pictureonwalls – the orgnanisation created to make the work of artists including Banksy, Mode2, jamie Hewlett etc.. accessible to the public. Founding of Agency Espionage focused on creating cultural propositions for brands including Oxfam, Action Aid, Bacardi,  Diesel.  But mainly since 1997 when the original archive PYMCA was founded I have been fascinated by people – what we do, how we dress, what we like, and especially how weird and progressive we can be. I have been working with Jamie Brett for 7 years now on converting this archive into the dream of a museum of youth culture. A Museum that reflects the rebellious nature of everything everyday people create.
Kafi-Ayanna Allah is a professional librarian working for Orange County Public Library in Hillsborough, North Carolina as the Adult and Teen Program Coordinator.  She works to create and facilitate programming for patrons from middle school age to elders.  Much of her work with youth is centered on the Teen Advisory Board, a group of young people who act as liaisons between the teens in the community and Library staff to ensure that it is a welcoming, nonjudgmental space for teens and teen expression as well as a resource for information of particular interest to teens.  
Miranda Lowe is a Principal Curator and museum scientist at the Natural History Museum, London. She is skilled in Archival Research, Museums, Cataloging, Museum Education, and Cultural Heritage. With strong interest in arts, photography and design. With over two decades worth of collections management and curatorial skills she cares for a plethora of historically important specimens from both the Challenger and discovery oceanic expeditions. After a yearlong secondment in 2006 to learn about exhibitions and gallery interpretation in a museum environment she has been passionate ever since about the role that museum exhibitions play in our understanding of the natural world. Miranda plays an active role on committees such as Natural Sciences Collections Association (as Collections at Risk Rep), Society for the Preservation of Natural History Collections (Member At Large) and the Society for the History of Natural History (Membership Coordinator) for which Sir David Attenborough is Patron. As a volunteer STEM ambassador and communicator of science she does outreach in schools and behind the scenes at the Natural History Museum, London. She mentors students as part of the Social Mobility Foundation 'Aspiring Professionals' scheme and the Prince's Trust. In 2013, Miranda was one of three finalists for the National Diversity Awards 'Positive Role Model Award for Race, Religion & Faith' receiving a Certificate of Excellence for her achievement.
Sanchita Balachandranis Associate Director of the Johns Hopkins Archaeological Museum and Senior Lecturer in the Department of Near Eastern Studies at Johns Hopkins University where she teaches courses related to the technical study and analysis of ancient objects, and the history, ethics and practice of art conservation. Her undergraduate courses always incorporate the close examination of ancient objects from the Johns Hopkins Archaeological Museum using non-destructive examination techniques. Recent hands-on courses include "Ancient Color: The Technologies and Meanings of Color in Antiquity" (2018) and "Recreating Ancient Greek Ceramics" (2015). A recent exhibition "Who Am I? Remembering the Dead Through Facial Reconstruction" involved collaborating with a multidisciplinary, international team of specialists to reconstruct the faces of two ancient Egyptian women in the care of the Johns Hopkins Archaeological Museum. Balachandran trained in conservation at the Institute of Fine Arts, New York University as a conservator specializing in archaeological materials. She is a Fellow of the American Institute for Conservation of Historic and Artistic Works. She is founder/director of Untold Stories, a non-profit organization that pursues an art conservation profession that represents and preserves a fuller spectrum of human cultural heritage.
Shawn Averkampis a Senior Consultant with AVP where she brings over 12 years of data management and software product development expertise to her work. Specializing in the integration of digital innovations into production environments, some of her recent work includes advising cultural heritage organizations on data and digital strategy and guiding the evaluation and implementation of machine learning applications in audiovisual metadata enrichment. Before joining AVP, Shawn served as Manager of Metadata Services, NYPL Labs at the New York Public Library, where she oversaw metadata production, contributed to digital collection and library catalog product development, and directed the development of metadata infrastructure for NYPL's unique digital resources. Prior to joining NYPL, she supported data curation, digital humanities, crowdsourcing platform development, digital scholarly publishing, and digital preservation at the University of Iowa Libraries as Data Services Librarian and Interim Head of Digital Research & Publishing and as a Metadata Librarian at the University of Alabama Libraries. She earned an MLIS from the University of Iowa and holds a BA in Music from Luther College.
Tanya De Angelis leads the Sundance Institute Archives & Collection, which preserves and shares the work of supported artists and the unique history of the Institute and its programs.
Terri Francisteaches film studies courses and directs the Black Film Center/Archive at Indiana University. She is a scholar of Black film and critical race theory whose work involves archival research, cultural history, and visual analysis, set within the vicissitudes of performance and representation. Francis published her research on Jamaican nontheatrical films as "Sounding the Nation: Martin Rennalls and the Jamaica Film Unit, 1951–1961" in Film History in 2011, and she guest edited a close-up on Afrosurrealism for Black Camera in 2013. Francis is the author of Josephine Baker's Cinematic Prism (Indiana University Press, forthcoming), and her essays appear in Transition and Another Gaze. Francis has worked to animate the Black Film Center/Archive as a living, breathing center of new and offbeat ideas about Black film. She has curated the film series "Race Swap," "Black Sun/White Moon," and "Love! I'm in Love!" and the speaker series "Black Film Nontheatrical and before Representation."
Vincent Morissetis a director known for his artful use of technology and interactivity. He's also the founder of the studio AATOAA (pronounced à toi, meanings 'yours'). Vincent has been celebrated worldwide to successfully revisit and change how we experience music videos, videogames, album artwork, films and virtual reality. Morisset collaborated artistically with Arcade Fire for twelve years; Neon Bible is considered the first interactive music video, and Just a Reflektor won the Primetime Emmy Award. With Icelandic band Sigur Rós, Morisset directed their groundbreaking live-experience INNI. With the NFB, he created BLA BLA and Way to Go. Both got the Webby in the Net Art category. Morisset's work has been featured at a myriad of museums and festivals, including SXSW, SIGGRAPH, Sonar, TIFF, Japan Media Arts Festival, GDC, MoMA, la Gaité Lyrique and the Cooper Hewitt.
Born and raised in Queens, NY, Yvette Ramírez is an arts administrator, oral-historian, and archivist-in-training. She is particularly inspired by the power of community-centered archives to further explore the complexities of information access and memory within Latinx/Andean diasporic communities in the United States. With nearly a decade of experience as a cultural producer, Yvette has worked alongside community-based and cultural organizations such as The Laundromat Project, Make The Road New York, New Immigrant Community Empowerment, The Noguchi Museum, and, most recently, as the national outreach coordinator at PEN America. She holds a BA from Hunter College and is currently pursuing a graduate degree in Digital Archives and Library Science / Preservation at The University of Michigan.