Contact: Wendy Levy, Executive Director
wendy@thealliance.media  510 406 8623
7 January 2020
THE ALLIANCE FOR MEDIA ARTS + CULTURE ANNOUNCES NEW BOARD PRESIDENT N'JERI EATON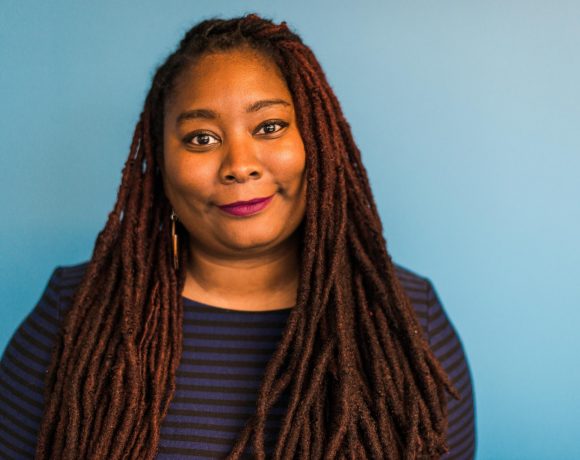 The Alliance for Media Arts +Culture is pleased to announce that the Alliance Board of Directors has elected N'Jeri Eaton as Board President, effective January 1, 2020. N'Jeri succeeds Kasandra Verbruggen, the Executive Director of SpyHop, who has served as Alliance Board President since 2016.
N'Jeri Eaton is the Director of Programming and New Audiences at National Public Radio (NPR) where she is charged with sourcing new content, partnerships and talent. As a part of her portfolio, she oversees NPR programs such as Believed, Latino USA, Throughline and White Lies. N'Jeri is also a freelance documentary producer and editor. Her feature film First Friday was broadcast nationally on AfroPop in 2016. Previously, N'Jeri was the Content Development & Initiative Manager at the Independent Television Service (ITVS) where she managed two of their largest funding initiatives and was the consulting producer on almost 80 films.  N'Jeri received her M.A. at the UC Berkeley's Graduate School of Journalism.
On assuming Alliance Board leadership in 2020, N'Jeri says, "I am honored to be the Board President of The Alliance for Media Arts + Culture.  The Alliance has been a part of my career since 2005 and I'm thrilled that I can contribute to it in this way.  The Alliance is offering exciting,
new opportunities for media makers including the new workforce development program Arts2Work, investing more in youth voices, and expanding innovation and access to creative technology. This will be a breakthrough year for The Alliance and it's a privilege to be a part of it."
2020 is also the 40th birthday of the Alliance for Media Arts + Culture, and a National Day of Storytelling is being planned in Atlanta at the Center for Civil and Human Rights on 10/10/2020, to celebrate art, culture and the power of story. The Alliance is thrilled to have collaborated on its national and international programs over these many years with the MacArthur Foundation, Rockefeller Foundation, Skoll Foundation, Adobe, National Endowment for the Arts, Wyncote Foundation and many others. Formerly known as NAMAC (the National Alliance for Media Arts and Culture), The Alliance is now a globally-engaged network of networks designed to embolden creative media organizations + artists and connect them with the world.
***
About the Alliance for Media Arts + Culture
The Alliance was founded in 1980 by an eclectic group of media arts organization leaders who realized they could strengthen their social and cultural impact by working as a united force. Their idea was as bold as it was simple: to create a national organization that would provide support services to its institutional members, and advocate for the field as a whole. Since its founding, The Alliance has worked to raise the profile and influence of the media arts on behalf of its growing and changing membership. Today, The Alliance for Media Arts + Culture represents a broad community of over 7,000 members, subscribers and partners in 25 states and 7 countries. In addition to the field-building programs offered throughout the year, The Alliance also sponsors grants to artists and organizations, conducts and publishes research, develops innovative creative technology, and advocates on behalf of the media arts field on pressing issues including funding, workforce development, equity and inclusion, youth media, creative leadership, ethics, fair use, and a free and open internet. The Alliance is the National Program Sponsor for Arts2Work, the very first federally-registered Apprenticeship Program in Media Arts and Creative Technologies