Virtual Summit
Our work is now defined by connecting the unconnected. Our transformative influence comes from curating the right spaces, the spaces that feed us with meaning.
—Gibran Rivera
YOUTH MEDIA NETWORK VIRTUAL SUMMIT
From October 25 to November 15, 2019, The Alliance Youth Media Network will be hosting a Virtual Youth Media Summit across Zoom, OVEE, and Instagram to engage the field in an intergenerational conversation and critical inquiry into the role of media in youth-centered and youth-driven social change.
You are invited to join a series of Video Roundtables  with  teaching artists, youth, nonprofit leaders, mentors, and cultural organizers on topics like:
Please RSVP through the Eventbrite links and join us on a laptop or mobile device for any or all of these conversations.
Repeated at 3PM PT – 4PM PT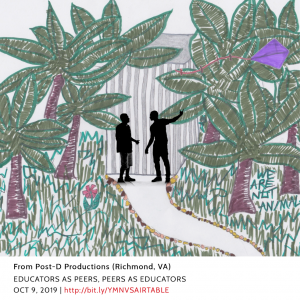 1:00 PM – 2:30 PM PDT/4PM – 5:30PM ET
VIDEO ROUNDTABLE: Educators as Peers, Peers as Educators
How do creative educators cultivate space as peers with youth?
Join O.K. Keyes, Mahkia Greene, and Charlotte Taylor in conversation with youth and teaching artists about what it takes to center youth within youth media and creative youth development programs and engage with youth as creative peers. This roundtable will explore how physical location (i.e. jails, rural communities, urban centers, public schools, etc.) shapes strategies, what behaviors cultivate inclusion, and the myriad ways we've failed at centering youth and can "fail forward." This conversation is perfect for anyone ready to examine their education + creative practices and connect to others dedicated to shifting power within classrooms.
https://www.eventbrite.co.nz/e/video-roundtable-educators-as-peers-peers-as-educators-tickets-72569688893
The Virtual Youth Media Summit Begins officially on Friday, October 25
Noon – 1:30 PDT
VIDEO ROUNDTABLE: What is Youth Media? w/ Media Literacy Week
Youth + Media constantly evolve, as does the definition of youth media. Join us for this Virtual Summit kickoff conversation as we ask, "What IS youth media?"
The Alliance for Media Arts + Culture has been convening + organizing an intergenerational network of youth media practitioners for over 20 years, and in 2019 we are more uncertain than ever what youth media actually is. We've spoken with Youth Filmmakers, Teen Librarians, Teaching Artists, Museum Educators, Executive Directors, Musicians, Youth Organizers, Public School Teachers, and Poets + Storytellers and each one has a different understanding of what makes and is youth media. It's beautifully messy and complex. Join The Alliance in an engaging conversation and inquiry into the definition and identity of youth media. Share your voice and shift your perspective.
https://www.eventbrite.co.nz/e/virtual-summit-kick-off-what-is-youth-media-w-media-literacy-week-tickets-73992558735
Tuesday, October 29
1:00 PM – 2:30 PM PDT
VIDEO ROUNDTABLE: Creating and Supporting A Media Arts Workforce Pipeline
This Video Roundtable will be hosted by The Alliance and SpyHop in Salt Lake City.  SpyHop will present its workforce development model, and discuss the connections to strategic and creative program planning. This discussion will have a specific focus on how to help students transition from youth-centered youth media programming to the needs and realities of professional work – including strategies for helping creative young people negotiate the new demands of the industry workplace.
https://www.eventbrite.co.nz/e/video-roundtable-creating-supporting-a-workforce-pipeline-tickets-74208450473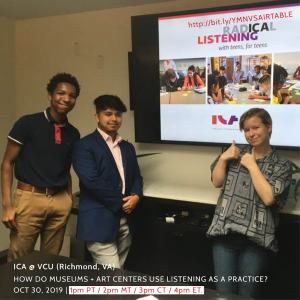 Wednesday, October  30
1:00 PM – 2:30 PM PDT
VIDEO ROUNDTABLE: Listening as Institutional Practice
How can + do cultural institutions (museums, art institutes, media centers) embrace listening as an institutional practice?
Join staff + interns at the Institute of Contemporary Art at VCU in Richmond, VA, and the Asian Art Museum in San Francisco, CA, in an inquiry into the ways listening is a practice, what questions we should be asking youth, what barriers are faced in prioritizing listening within institutions, and how we move from listening to listening-centered action. This conversation will look specifically at listening to youth and has applications for any institution that desires to listen to its stakeholders and audience.
https://www.eventbrite.co.nz/e/video-roundtable-listening-as-institutional-practice-tickets-73996921785
Thursday, October 31
11:00 AM – 12:30 PM PDT
VIDEO ROUNDTABLE: Community Media Centers as Local Culture Keepers
Community Media Centers create bridges between artistic development, youth empowerment, skill development, and job training that offer an opportunity to expand the culture of media and filmmaking. Sometimes, though, these various bridges create tensions in how to meet the needs of multiple stakeholders — youth, funders, employers, educational institutions, parents, Board of Directors, etc. Join The Alliance Youth Media Network + Arts2Work in an inquiry into how our Members succeed and fail in finding balance and what is possible when Community Media Centers embrace their role as local culture keepers of media + filmmaking.
https://www.eventbrite.co.nz/e/video-roundtable-community-media-centers-as-local-culture-keepers-tickets-73997784365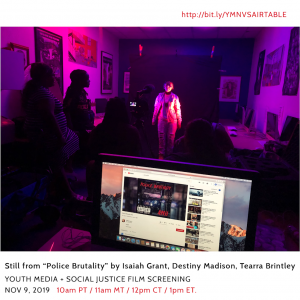 Wednesday, November 6
11:00 AM – 12:30 PM PST
VIDEO ROUNDTABLE: Teen Librarians, the New Youth Advocates
How do libraries succeed and fail in creating systemic change that centers youth?
Teen Librarians occupy a unique place within public libraries; they offer insight into how government can listen to and engage the constituents they are designed to serve. Join Teen Librarians Kafi-Ayanna Allah + Alice Welna in conversation with past Teen/Youth Advisory Board Members + current Teen Librarians about the ways in which libraries include, engage and leverage youth as agents of systemic change, and what still needs to be done.
Saturday, November 9
10am PT / 1pm ET on OVEE
OVEE SCREENING: Youth Media + Social Change 
An online screening of select youth-produced media, films, and video from Appalachian Media Institute (Whitesburg, KY),Youth FX (Albany, NY),Venice Arts Center (Venice,CA), and others that shine a light on how youth are telling stories of social change. Hear from emerging filmmakers about their process, vision and approach to making media. https://www.eventbrite.co.nz/e/screening-youth-media-social-justice-tickets-74005623813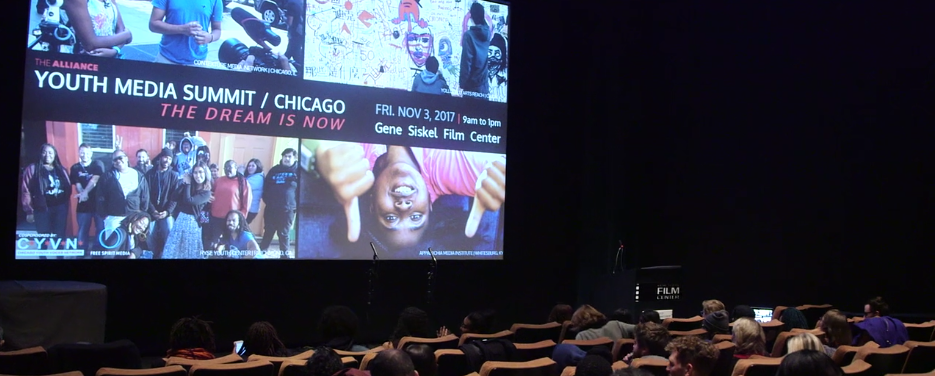 12:30 PM – 1:00 PM PST
INSTAGRAM LIVE INTERVIEW w/Chance Caroll
What are the personal, creative, and professional trajectories of young adult artists, designers, media makers, and journalists?
Join Alliance Senior Consultant in Youth Media Jason Wyman in conversation with young adult filmmakers, designers, and artists about their personal, creative, and professional trajectories. It's a half hour dive into the minds, hearts, and communities of young creatives trying to find their way in this chaotic world. We'll touch on what art + media are, who supports them on their journey, and the places and spaces they want to go. Tune in to Instagram + join us by sharing your insights, questions, and reactions.
Monday, November 11
10:00 AM – 11:30 AM PST
INSTAGRAM LIVE INTERVIEW W/ OAKLEY FUGATE
Monday, November 11
Noon – 1:30 PST
VIDEO ROUNDTABLE: Convening The Conveners of Arts, Media + Culture
Who is convening who in our field? How do we convene our communities and networks? How might we work more collectively? What is on the horizon for 2020?
The fields of youth media, media literacy, creative youth development, civic journalism, movement building + storytelling, and social justice education have a lot of connectivity and overlap. We even share many of the same members, colleagues, and partners. Often, the folks we help organize feel overwhelmed by all of the information they have to keep straight and all of the work they have to do. They desire to be a part of larger networks that can help center + elevate the voices, stories, and people with which they work and create. They want support, and it's just sometimes hard to make space for that support. As organizations and associations that convene folks in our fields, we can provide more strategic and useful support to our members and partners if we know just a bit more about who we convene, how we convene folks, and what's on our horizons for 2020. During this Video Roundtable, we invite convening organizations and associations in youth media, media literacy, creative youth development, movement building + storytelling, and social justice education to share with each other our responses to the guiding questions. We'll also hold some space to see if any next steps emerge. And…we're totally ok if they don't. This Video Roundtable is all about info sharing + starting to create connections to better serve our members and partners.