scroll down to subscribe to the eBulletin
From the Executive Director
Hope you are all making some time for a little creative transformation this summer. Maybe not so much email and a little meditation instead, fewer back-to-back meetings, reading a book with the sun on your back, writing a book with the sun on your back, shutting down the computer in the daylight, listening, creating, getting wet, tasting summer things, finding your way to a long afternoon with nothing to do. It's romantic to think such things are possible, and we all deserve some peace of mind and body.
In this July/August edition of our summer eBulletin, I am thrilled to announce two new members of the Alliance Board of Directors. N'Jeri Eaton, Senior Manager, Program Acquisitions at National Public Radio and Mary Tahui An, Senior Director of Africa Programs at Sesame Workshop, have joined the Alliance Board and will be part of the devoted group of folks who help guide the mission and focus of the organization, oversee its governance and financial well-being, and envision our journey forward. I am the happiest Executive Director on the planet because I get to rely on these incredible people, collaborate with them, and build the future of this Alliance. Check out Board bios here.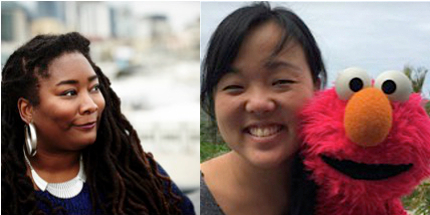 And last thing I wanted you all to know about our work this summer is the kickoff of a strategic planning process (a nonprofit blessing disguised as work!) we call 2020 Vision. In collaboration with facilitator Melinda Weekes Laidlow, our Board will be gathering in New York in September for a retreat from which will emerge a collaborative, iterative vision for the work of the Alliance over the next three years. We have surveyed our members, partners, program participants and funders, looked deep into our own practice and purpose, and will be crafting a values-driven plan to build abundant creative communities, foster powerful, authentic storytelling, and envision new models for innovation, sustainability and justice as a core practice. Imagine if displacement did not follow revitalization. What if we created a system of paid apprenticeships to provide equitable, inclusive access to jobs in media and creative technologies? Think of the possibilities if social practice and public media artists had reliable and sustainable revenue streams for their work. Can we create a world where arts organizations and collectives have the opportunity to own the land and properties they have cultivated for decades in communities across the country? And what if inclusion, collaboration and co-authorship became a dominant practice in media production? There I said it. Hierarchical, exclusive, white-dominated production models must be challenged at every turn on the journey to justice.
Stay tuned for our 2020 Vision in October 2017.
We are your Alliance, working for our collective creative futures.  Join. It feels really good.
As always, feel free to reach out my way anytime, wendy@thealliance.media
Notes from the Field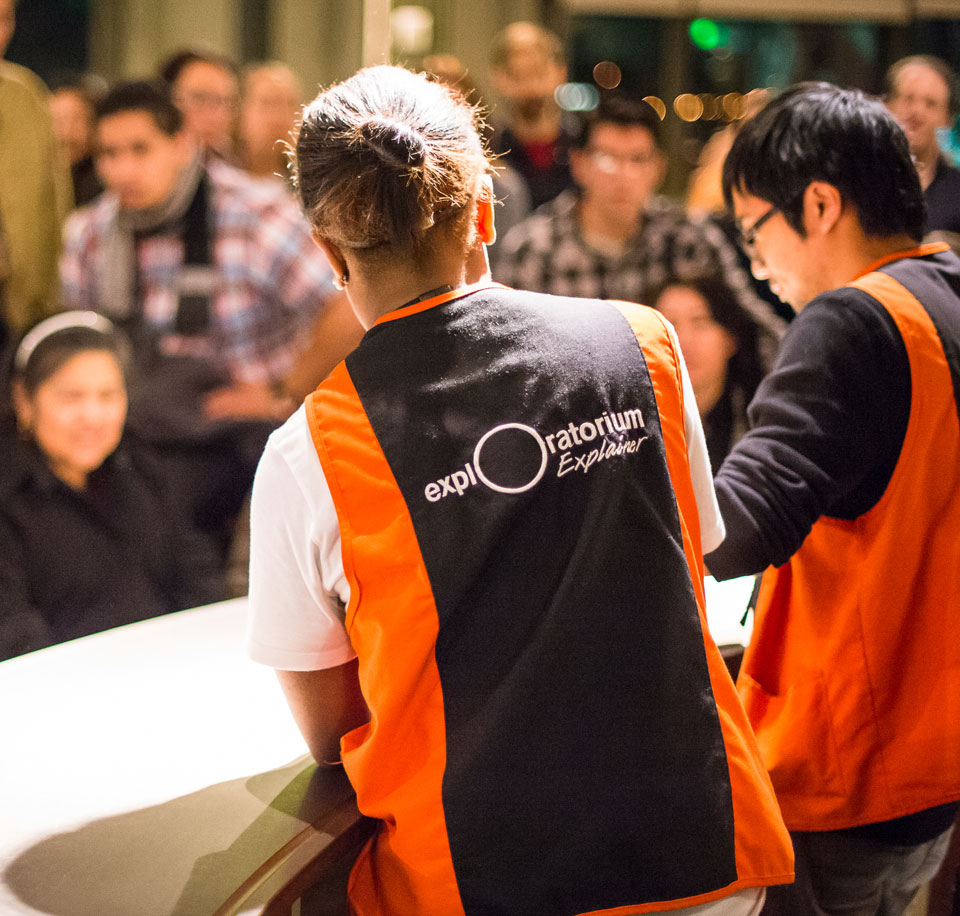 Our Place in Space
Before the moon blots out the Sun on August 21, join new ALLIANCE member the Exploratorium in San Francisco, CA on Thursday,
August 3rd, 2017, 6:00–10:00 p.m. to consider cosmic questions at After Dark. Learn what it's like to skydive from the stratosphere or land a rover on Mars. Listen to the interstellar message of Voyager's golden record, and look through telescopes, films, and cultural history for inspiring views of our local planets and star.
Structural Language Exhibit
ALLIANCE member the School of Arts, Communication & Media, Salt Lake City Community College presents Structural Language, an art show by Naomi Adams. Structural Language is a body of artwork that was created using textile re-construction techniques. These pieces utilize quilting techniques, surface design (including artist hand-dyed batting) and adhesive reconstruction. The Opening Reception is Tuesday
July 18, 6 – 8 p.m. The exhibit will continue until Thursday,
September 7, 2017.
Two Towns of Jasper
On Monday August 14th ALLIANCE member POV will be showing on PBS an encore broadcast of Two Towns of Jasper. In 1998 in Jasper, Texas, James Byrd, Jr., a black man, was chained to a pick-up truck and dragged to his death by three white men. The town was forever altered, and the nation woke up to the horror of a modern-day lynching. Two film crews, one black and one white, set out to document the aftermath of the murder by following the subsequent trials of the local men charged with the crime. The result is an explicit and troubling portrait of race in America, one that asks how and why a crime like this could have occurred. An Independent Television Service (ITVS) and National Black Programming Consortium (NBPC) Co-presentation and a Television Race Initiative (TRI) selection. Check your local listings for exact times.
Media Policy Watch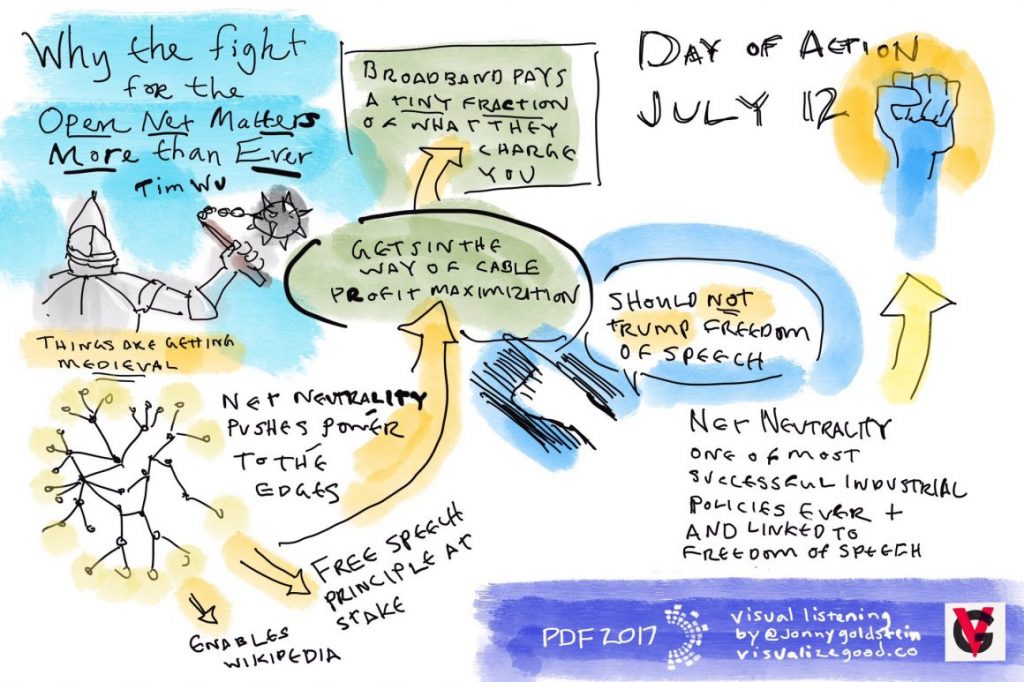 by Megan A. Zebrowski
This month, the Alliance was proud to be part of a coalition of companies and organizations participating in Battle for the Net's July 12 Day of Action to save Net Neutrality. Without net neutrality internet providers will be in a position to create "prioritization" fees. This gives organizations, that can afford it, a "fast lane" for internet access and everyone else will be in the "slow lane." This will most likely hamper the amount of visitor to their sites.  The coalition includes: the Center for Media Justice, Amazon, Netflix, Patreon, Open Source Initiative and many others.
This is an issue we have discussed several times before and while there have been victories in the past, the present administration has brought this issue to the fore once again by the appointment of former Verizon Employee Ajit Pai as FCC Chairman as well as two other deregulation advocates.
Sinclair Broadcast Group has almost completed their merger with the Tribune. According to AllGov, "The US$3.9 billion deal would add Tribune's 42 stations to Sinclair's existing 173." This deal has been made possible by the FCC reinstituting the decades old UHF discount.  This once evened the playing field for analog UHF TV stations which were at a disadvantage against stations that broadcast via cable. The discount was previously deemed no longer necessary as stations that broadcast UHF signals digitally do face the same disadvantage. Comedian John Oliver recently gave a good breakdown of the deal and the extremely large market share this would give Sinclair.
In other local media news, the New Jersey Civic Info Bill, which would better fund and strengthen local media and whose status we've discussed before, has been gaining momentum in thanks to local efforts including, public forums, petitions, and contacting state representatives. 13 lawmakers are now sponsoring the legislation.
In Colorado, local media providers have banded together to form the Colorado Media Alliance. According to the Huffington Post, "The focus of the Alliance is shared editorial focus around stories, collaboration around events and social media campaigns to shed light on underrepresented issues in Colorado." The CMA consists of "The Open Media Foundation, KGNU, Colorado Independent, and a dozen broadcasting, print, online and community organizations like Common Cause."
Supporters of diversity in film had some good news. According to the LA Times, in a recent report put out by the Creative Artists Agency, an American A-list talent and sports agency, has found how profitable diversity in films can be. In a comment give to the Huffington Post the CAA said, "At every budget level, a cast that is at least 30% non-white outperforms a release that is not, in opening weekend box office."
We want to hear from you. Are you concerned with any national media policy stories that are underreported? Are there any local stories in your area that need highlighting? Please let us know.
subscribe to the full eBulletin below