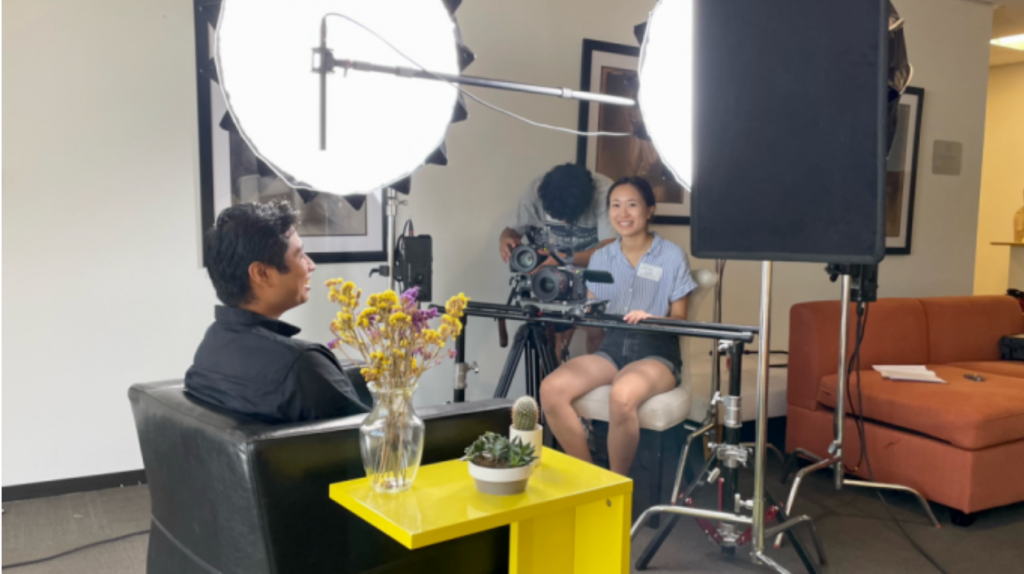 By Hilary Smith, EVP Corporate Social Responsibility, NBCUniversal
As awards season wraps up, I am in awe of the talent who received honors. At the same time, I wonder how many extraordinary filmmakers, cinematographers, and craftspeople were overlooked because they never had the right opportunity to break into the industry.
The job market is daunting for filmmakers, media producers, editors, and other early career talent, while the arts and media sectors lack a broad enough infrastructure to support accessible pathways for in-demand jobs. Graduates need an impressive reel of visual stories just to get their foot in the door, and one can't build that without professional experience. It is a chicken and egg scenario.
This point was crystalized for me recently by Jenni Loo, a paid apprentice in Los Angeles, who told me she learned how to set up a story and think on her feet as a filmmaker – an experience few young adults from underrepresented communities are afforded. Loo called it "a professional turning point."
If we are serious about growing a diverse talent pipeline, and strengthening the creative economy, paid apprenticeships must become the building blocks of change. Such programs can help us all construct a world where every movie, TV/streaming show, podcast, video game, and online content platform has talent reflecting the audiences they serve.
Programs like Universal Pictures' Below-the-Line Traineeship strike me as a great road map for inclusivity. This program enabled its first class – including five students from the nonprofit Hollywood Cinema Production Resources and one individual from the Anti-Recidivism Coalition – to be staffed in roles ranging from visual effects to grips to set design.
Taking a page from this program and applying it to our corporate social impact strategy, we launched the Creative Impact Lab, which aims to open doors for the next generation of creators. We do this by providing grants to nonprofit creative agencies and commissioning their apprentices to develop marketing assets for our nonprofit partners. The apprentices gain on-the-job training, a stronger portfolio, and a new professional network.
The Lab is where I connected with Loo, who was commissioned to produce a marketing reel for America On Tech with nonprofit creative agency Reel Works. Loo told me, "When I was growing up, I did not even consider that this could be a career for me. The opportunity to be an apprentice…made accessible an industry that I previously felt was inaccessible to people like me."
What made Loo's experience even more valuable was the mentorship she received from NBCUniversal employees who advised on the project. Loo explained, "mentors fast-track your confidence. I did not come from a background where I had any exposure to the creative industry as a business… Having mentors as I start my career has helped me become comfortable saying that I have the skills that I need to work on production sets and get paid and continue as a working creative professional."
Other nonprofit creative agencies in the Lab, like RE:IMAGINE, PhillyCAM, Spy Hop, and Youth FX, are connecting their paid apprentices with other private sector employers to help grow their networks further. This helps shift the traditional hiring mindset from a world which was traditionally rooted in "who you know" to "who do we need to know."
Case in point: Loo credits landing her new full-time job as associate producer at Cross Cut Pictures to her training and mentorship.
Now, through a partnership with The Alliance for Media + Arts and Culture, we are doing even more work to pave career pathways. The Alliance developed an apprenticeship program called Arts2Work that opens doors for creatives who can't afford unpaid internships in the industry. Together, we plan to roll out training that exposes apprentices to career paths and teaches them best practices for production and being a mentee.
Paid apprenticeships are not only more inclusive of diverse talent – they are good for the bottom line. New research from Harvard University's Project on Workforce shows investment in apprenticeship programs benefits talent and improves business outcomes for employers.
To build a more equitable, inclusive creative economy, we need to hire people who don't traditionally have opportunities within it. If we do, I am confident that the Jenni Loo's of the world will have many statuettes in their future.