scroll down to subscribe to the eBulletin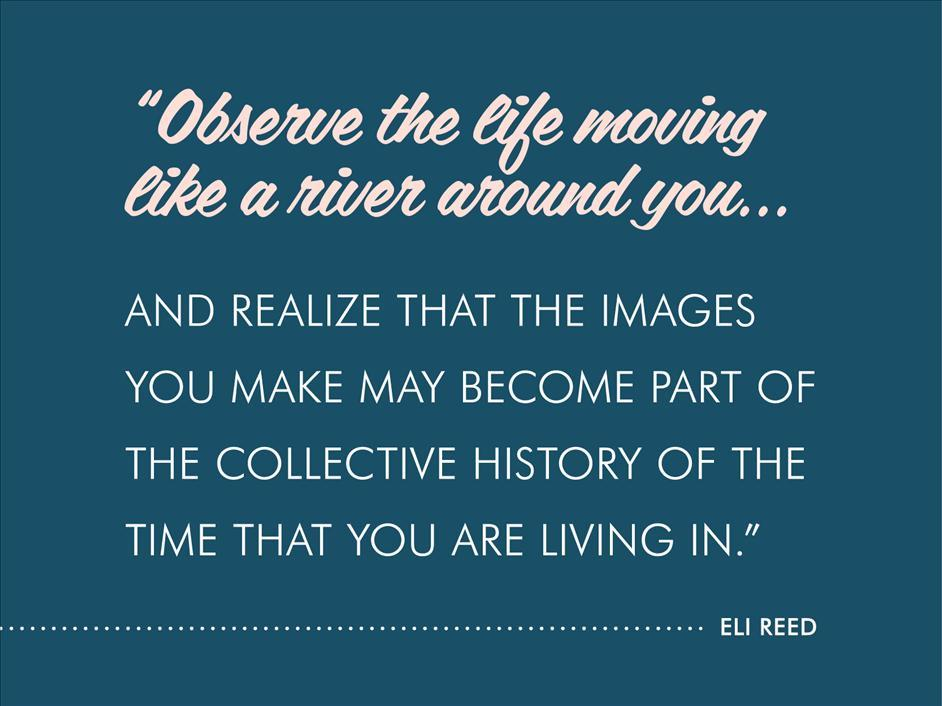 From the Executive Director
Observe the Life Moving Like a River Around You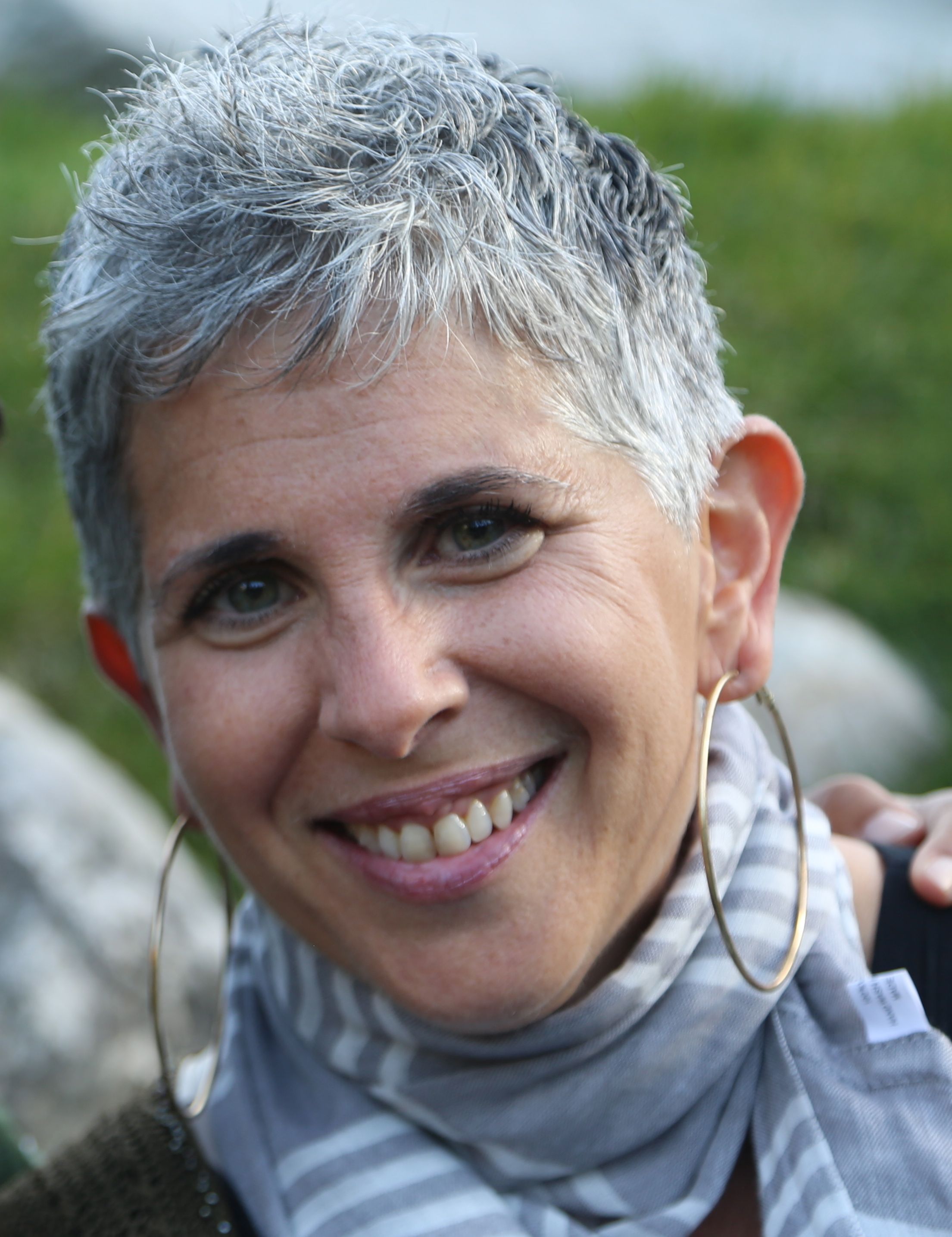 In this end-of-year edition of the Alliance eBulletin, I'm relieved this year is ending — and feel persistently hopeful for what's to come. The work of The Alliance for Media Arts + Culture has been an anchor in a very tough time, a way to come together, to hatch creativity across this country and around the world, to embolden creative leaders, to provide access to technology and opportunities across our network, to devise new breakthrough programs, to foster collaborations between unexpected partners, to help artists embed in communities and watch the work take flight.
I'm happy to be able to share with you some wrap-up style documentation of this work: our 2017 Impact Report, our 2020Vision Strategic Plan, and a video from our recent Youth Media Summit in Chicago, THE DREAM IS NOW. If you can — take a moment, take a breath and take a look.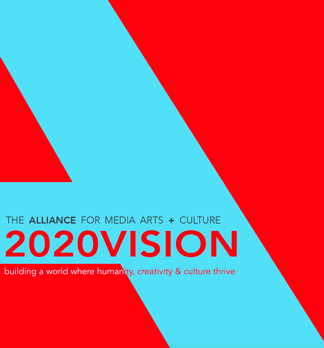 There are few organizations like The Alliance working so devotedly to build a vibrant and diverse creative community, economy, and ecosystem where all are welcome, included, and illuminated. Looking towards 2018, we are more excited than ever about our suite of field-building initiatives: HatchLabs + the Creative Leadership Lab, Arts2Work, Cherry Red Ventures, Media Legacy Freedom Fund, Regional and Virtual Roundtables, Innovation Studio Projects like VR Colored Girls Museum, FRED and My Name Is Andrea, and our kickass National Youth Media Network and their brand new (launching in a few weeks!) intergenerational arts magazine THE ISSUE.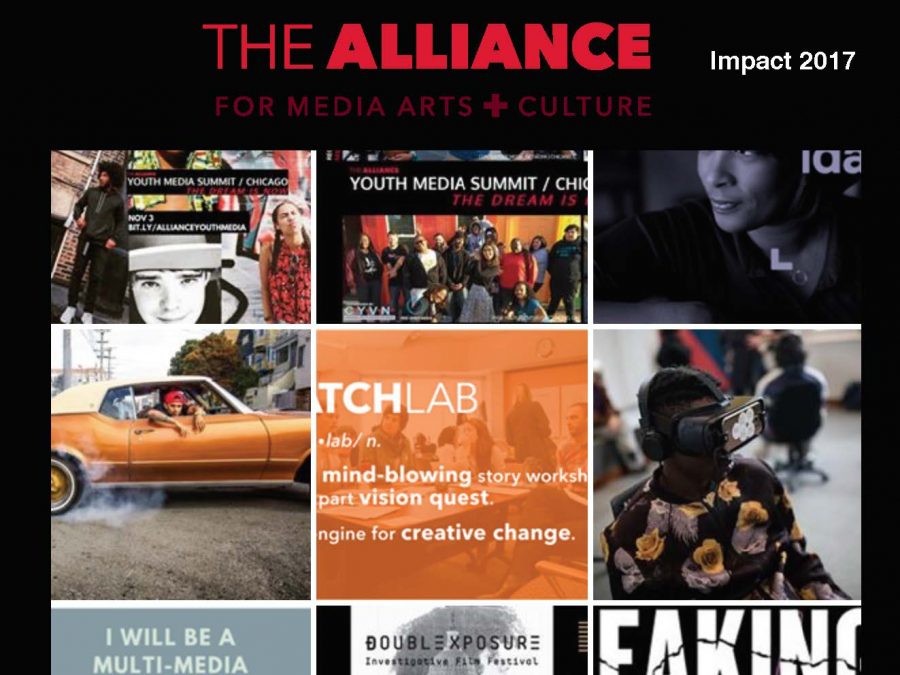 If you've joined The Alliance for Media Arts + Culture this year, THANK YOU. We hope this work is a reflection of your values and practice in one way or another. If you have not yet joined, JOIN before the end of the year to support this work and add your voice. We accept membership fees of $1 – $1million. Seriously, we will put whatever amount you can give to good use in direct program support – and right now, the size of the Alliance matters. The more members we have, the louder our collective voice and agency.
This New Years, I'm consulting Virgo horoscopes, walking in the snow, meditating a little just before each sunrise, and trying as best I can to show up in truth.  In 2018, here's to more hope + light, justice + solidarity, bold storytelling + fearless creativity.
As always, let me know what's going on. Become a funder, producer or mentor. Join our Employers Network. Reach out. wendy@thealliance.media.
Notes from the Field
Jessica Jones Directed, Edited, and Produced Portraitist Oree Originol Honors People of Color Killed by Law Enforcement
New Member Jessica Jones created a short for KQED Arts on Oakland street artist Oree Originol. The piece focused on Oree's "Justice for Our Lives" project, using digital illustrations of people of color killed by law enforcement, a project Oree is engaging with because he feels it is his "responsibility as an artist to make these names popular…"
Termite TV Presented At Dark, Projections in the Park
The Alliance member Termite TV recently gathered a group of around 20 people at Penn Treaty Park, in Philadelphia PA, for a 2.5 hours event to watch, participate, listen and project images on different surfaces in the park. The central installation, Be Here Wow, offered a looping 45minute soundtrack of guided meditations crowd-sourced from 15 artists throughout the county.
Media Policy Watch
by Priscilla Genet
On December 14, the FCC voted 3-2 to roll back net neutrality, a controversial repeal headed by FCC Chairman Ajit Pai, to strip rules which, as stated by the New York Times, "required internet service providers to offer equal access to all web content without charging consumers for higher-quality delivery or giving preferential treatment to certain websites."
This decision is being met with a wealth of legal opposition from public interest groups, New York's Attorney General, and various large companies. On the state level, California State Senator Scott Wiener has pledged to introduce laws to protect net neutrality on a local level, although whether this will work is unclear after California lawmakers shelved a bill that would have required internet service providers get permission from customers before using, selling, or allowing access to their browser history.
In addition to state and local efforts, it is possible that under the Congressional Review Act (CRA), which allows Congress a period of time to reverse an agency rule, Congress could issue a resolution of disapproval that would overrule the FCC's decision. With 132 of the 239 Republicans in the House of Representatives not having signed a formal letter from congress in support of Pai's plan to repeal net neutrality rules, it is possible some of those representatives could back a resolution of disapproval.
In related news, Ajit Pai attempted to address widespread dissatisfaction with his repeal through a video collaboration with the daily caller, involving numerous references to recent popular culture, which included the use of the song Harlem Shake, part of a viral video trend a number of years ago. This lead to the creator of  the song, Harry Bauer Rodrigues issuing a DMCA takedown, and a subsequent legal battle over whether the use of the song constitutes fair-use.
We want to hear from you. Are you concerned with any national media policy stories that are under-reported? Are there any local stories in your area that need highlighting? Please let us know.
subscribe to the full eBulletin below
[/cmsms_text][/cmsms_column][/cmsms_row]