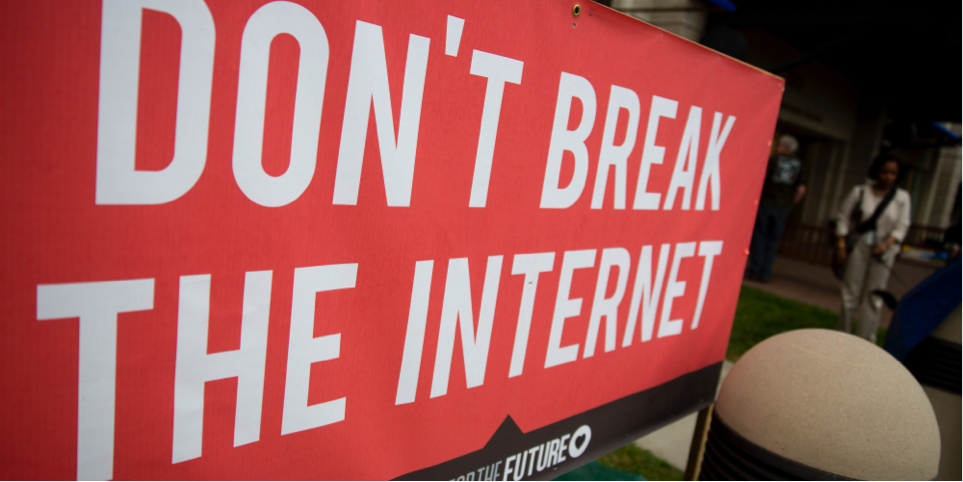 It was a very stormy night in Oakland and the traffic was a disaster, turning a twelve-minute hop over the bridge, or a twenty minute BART ride, into a two-hour odyssey that ended with me having to turn around—so I could not get to the Net Neutrality Rally in San Francisco on Thursday night. Big thanks to Todd O' Boyle at Common Cause for picking up his email during the rally, and to JoEllen Kaiser of the Media Consortium for stepping in and sharing my remarks (finessed by NAMAC Board members Casey Rae, ED of the Future of Music Coalition and Philanthrogeek CEO Nathaniel James) to the packed Forum at SF City Hall. I got home to discover that the "FCC will not vote on new net neutrality rules before 2015, with commission Chairman Tom Wheeler caught between the wishes of President Barack Obama and Internet providers like Comcast on how the agency can best ensure all Web traffic is treated equally."
Here's what I was going to say at the Rally, on behalf of our creative community, published here instead as an open letter to Tom Wheeler and the FCC. Feel free to share, write your own, sign the petitions, make your voices heard. Do it now. It's really, really important.
AN OPEN LETTER TO TOM WHEELER AND THE FCC
FROM THE NATIONAL ALLIANCE FOR MEDIA ARTS AND CULTURE
As the Executive Director of the National Alliance for Media Arts and Culture. I am lucky enough to stand with a global community of filmmakers, journalists, technologists, and human rights defenders in support of Internet freedom.
The freedoms offered by the web, by an unrestricted, neutral internet—the freedom to create, to speak one's mind, to exchange ideas, to access vital information—these are basic human rights in grave jeopardy if the net is controlled by corporate, profit-driven interests.
My people are the content creators, artists, and innovators who tell the stories that need to be heard. Net Neutrality gives all of us a real chance to establish alternatives to the major media, tech, and content companies. A neutral internet is essential for a healthy creative economy where everyone has equal access. Cable companies want the right to control how we all access content online—whether its breaking news, independent films, or major league baseball—and they'll say and do anything to try to make sure they pick and choose which sites will get preferential treatment. They do not own the Internet—no one owns the internet! Do not believe any ISP fatcat lobbyist who tells you there is a "commercially viable fast lane." That is the voice of corporate greed. They are building the fast lane to the end of the web as we know it. Please stop them.
Tom Wheeler, FCC—it's time to crush this. We look to you now, as an independent body, to stand up for and ensure a free and open internet for all. It is in your hands to join with the American people and show the world that our freedom of expression will not be compromised, and cannot be bought.
Learn more at this fantastic site: battleforthenet.com
Here's a petition: cms.fightforthefuture.org/tellfcc
Here's another one: act.credoaction.com/sign/verizon_netneutrality
Here's President Obama's Statement on Keeping the Internet Open and Free youtube.com/watch?v=uKcjQPVwfDk