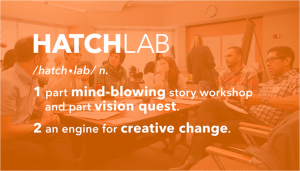 A HatchLab is a new kind of global storytelling workshop. Designed to build creative strategy muscles for filmmakers and nonprofit organizations, HatchLabs facilitate collaborations between artists, movement leaders, scientists/technologists, civic leaders, policy makers and communities.  HatchLabs offer new tools and opportunities for the voices of those traditionally marginalized to be a central part of creative ideation and social reform.
HatchLab participants gather for a single day, from 9AM – 5PM, joining a team of award-winning artist/mentors to explore inclusive, collaborative, and responsive storytelling models, build deeper connections as a creative community, and activate new narratives designed to embolden and sustain vulnerable communities.
After a HatchLab, the collaborative projects that emerge from the workshop are eligible for funding and mentorship throughout the year. We feel an urgency to move beyond tired Hollywood tropes, appropriation and apocalyptic messaging to support co-created films and videos, community-based artist residencies, interactive projects and innovative technologies that honor and amplify the voices, wisdom and lived experience of the people whose stories are told.
We began the HatchLabs in 2016 focusing on Climate Change and Environmental Justice storytelling;
March 21/22 at the Carnegie Institution for Science, in collaboration Environmental Film Festival at our Nation's Capital
April 10 at the Skoll World Forum in Oxford — in collaboration with Sundance Institute's Stories of Change Program
June 7 at the NAMAC Conference, Alliance 2016, in Oakland, CA
In 2017, the HatchLabs explored Racial Justice and Inclusion:
August 2 at the BlackStar Film Festival in Philadelphia, in collaboration with The Colored Girls Museum
October 10 at the New Orleans International Film Festival, in collaboration with Antenna Collective
November 2 in Chicago, in collaboration with Appalachian Media Institute, RYSE Media Center and Donda's House
To see a video of the 2016 HatchLabs click here.
In 2018, we worked with HatchLab alumni on a series of granted projects: