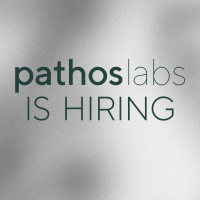 Website Pathos Labs
using the power of entertainment to engineer new norms.
Organization Mission: Pathos Labs is a nonprofit laboratory focused on exploring ways that media and entertainment can most effectively accelerate compassion, advance equity, and dismantle hatred.
The Vision: The world is exponentializing largely due to the advent of disruptive technology. How do we counter the weaponization of technology and media that exponentialize hatred, divisiveness, and interrupt social progress, equity, civility and the dignifying of communities that have been systemically seen as "other"? How can we flip the script, and change the narrative? That is why Pathos Labs exists – to explore ways that media, and entertainment can be used as powerful levers to predispose our world to a more compassionate, dignified, and equitable future.
Role: Head of Programs
The Head of Programs will be in charge of many public facing initiatives and projects (such as the PopShift summit). We are seeking someone who is detail and operations oriented. A lot of moving parts doesn't faze the Head of Programs.
While they like strategy, they feel in flow when they are on the move and doing the work. They over-communicate, they are organized, they get clear on the tasks at hand. They will do whatever it takes to get it done, and will find the back-door.
Your First Mission: PopShift is a virtual event focused on shifting narratives in popular mass media to promote prosocial behavior. By connecting influential television and film writers with behavioral scientists with expertise in prejudice reduction, depolarization, and healthy intergroup relations, PopShift seeks to translate proven research-based interventions into mass media storylines and content.
Apply Here by Sunday June 21st.