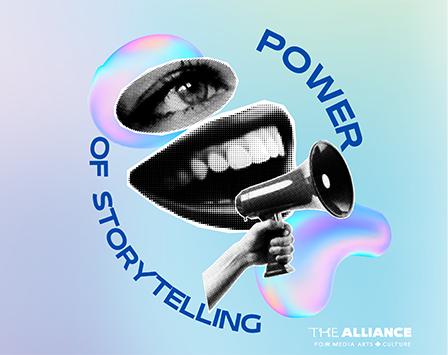 Are you a media artist who has participated in an Arts2Work-affiliated program over the last 3 years? Are you currently enrolled in an Arts2Work Pre-Apprenticeship program or are you an Arts2Work Registered Apprentice?
Do you have a concept or project that explores the power of storytelling, or uses storytelling (photography, video, audio, interactive, XR) to explore the power of the human spirit?
We invite you to define what the "power" of storytelling means to you. It could mean expanding the boundaries of traditional video production to tell a remarkable story, helping us see the world differently, or moving audiences to action through the power of your camera and your ideas. In the application, you will tell our panel what the "power of storytelling" means to you and how your project reflects that.
The Alliance for Media Arts + Culture invites emerging storytellers from Arts2Work programs to apply for the first Arts2Work Power of Storytelling grants. We will make three awards of $3000 – $5000 to provide funds that will enable artists to finish and distribute their powerful short media projects. Winners will receive funding as well as mentorship from award-winning editors
Applications are due Friday, October 15th at 5PM PT
Click Here to Apply.