Monday, June 28th | By Lee Benson
Reprinted from deseretnews.com
SALT LAKE CITY—The people who run Spy Hop Productions, Utah's award-winning nonprofit youth digital media center, got a cold dose of reality the other day.
The construction guys were on the line. They had some news. Concrete is up, glass is up, the price of wood has nearly doubled. And steel! Steel is way up. It's going to now cost $500,000 more for the steel they need for their new building they hope to get started this fall. All together, the cost overruns so far amount about to $1 million.
Their $6.5 million building is now a $7.5 million building.
"You see political news on a website and you think it's a thousand miles away," says Matt Mateur, Sky Hop's program director. "Then you get a phone call and it's right here at your front door. The political theater that's taking place is really hitting the little guy."
Who knew tariffs could be so terrifying?
Being a nonprofit is never a cakewalk, of course. When prices go up you can't raise your prices and make more money. Then you wouldn't be a nonprofit.
You just have to get creative and hope the people who fund you — in Spy Hop's case, a mixture of the government, charitable foundations and private donors — figure you're worth it.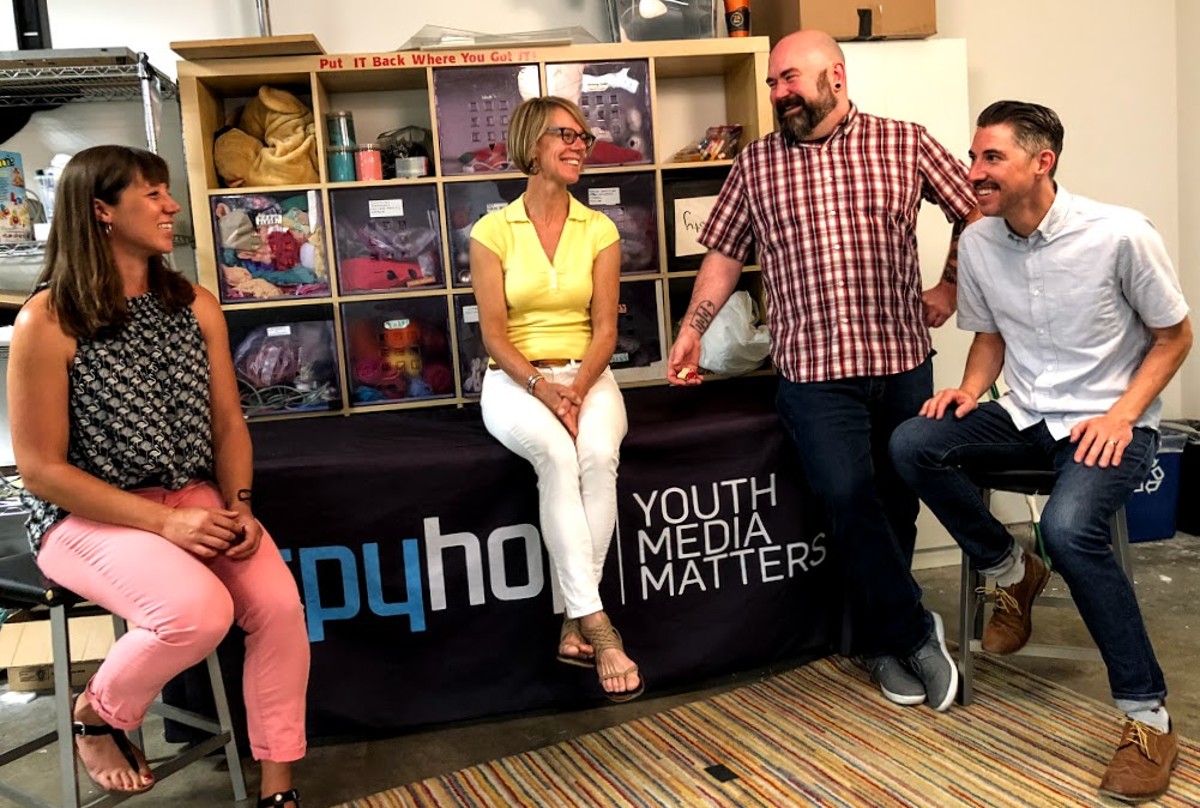 But, then, creativity is Spy Hop's stock in trade, so that should be no problem. The after-school program has been staying ahead of the curve ever since it opened its doors in 1999 as a way to help teenagers learn skills in the digital media arts in film, audio, music and design.
Twelve kids signed up for the first classes.
That was only 19 years ago, but who knew the world could move so fast? In 1999 the World Wide Web was barely 10 years old. A somewhat sizeable portion of the population still didn't have cellphones (and had land lines). People still used film. Bluetooth was just being introduced. Facebook was five years away, YouTube six. It would be almost a decade before iPhones and iPads would exist.
It turned out that Spy Hop (the name is a verb, defined by the dictionary as "the act in which a dolphin rises above the water in order to navigate and determine its position in relation to other members of the pod") was on to something. The 12 kids turned into hundreds, then thousands. Last year more than 11,000 kids participated in some sort of Spy Hop program, representing 149 schools throughout the state.
They still brag about the original 12, though, proud to bring up the fact that, for instance, Jack Allred is an Emmy-winning cinematographer, Eli Sasich is a noted writer-director and Ben Trentelman is director of operations of the Utah Afterschool Network.
They also can brag about winning a National Arts and Humanities Youth Program Award in 2015 as one of the country's top after-school youth programs. Executive Director Kasandra VerBrugghen traveled with Spy Hop student Kitzia Rodriquez to the White House to receive the award from then-first lady Michelle Obama.
Needless to say, serving 11,000 kids takes up a lot of room, which is what Sky Hop's new building is all about. It is projected to be erected in downtown Salt Lake City on a corner lot provided by the city's redevelopment agency at 900 South and 200 West, directly across from a TRAX station. The 22,000-square-foot building will be twice the size of Sky Hop's current temporary headquarters on West Temple.
A capital fundraising campaign has been underway for over a year to make sure there will be enough money to pay for the new headquarters.
4 comments on this story
All was on schedule, with groundbreaking scheduled for early fall, when tariff wars and international trade debates — or something — shot the prices of building materials through the roof.
"It's definitely stalled things," says VerBrugghen, who prefers to look on the bright side when she says, "Who knows? Maybe by 30 days out (from construction) the prices will all go down."
Or maybe the prices will stay high, but help will come for a Utah original that has more than proved its worth, and Spy Hop will continue to stay ahead of the curve.