Reprinted from Archivoz Magazine
Today, we talk with Jocelyn Arem, founder of the Arbo Radiko archival storytelling studio, about leveraging the past to redefine the future and how she uses hidden archival materials to retell stories that otherwise might remain unheard.
(Archivoz) What is archival storytelling?
(J.A.) Archival storytelling is the creative practice of resurfacing hidden, untapped and untold historical treasures and reimagining that content in various storytelling presentations that speak to modern day audiences.
(Archivoz) Tell us a little about your studio, Arbo Radiko. What do you do, and what inspires you most about your work?
(J.A.) In the age of technology, we have a greater ability to share content than ever before. Content is currency; it has the potential to connect us, deepen our understanding of our world, create visibility and empathy, and spur activism to make our world better. Yet we often amass years of valuable but hidden content – the stories in our archives – which, when unearthed and presented thoughtfully, can be utilized to create new marketing, fundraising, brandraising, and personal value, reaffirm our identities, and connect us more deeply to each other.
Arbo Radiko ("Tree Root") is the only GRAMMY Award-nominated archival storytelling studio that helps visionary creative organizations, legacy artist estates, brands, media companies, record labels, publishing houses, museums, arts and cultural institutions, celebrity figures and pioneers in music, film, dance, theater, literature, culinary and visual art repurpose and curate hidden material into valuable, inspirational modern day content. We create radical reimaginings, reinventions, and transhistorical fusions across print and digital platforms that build value from existing content. Our passion is remixing archival material in today's context with modern multimedia storytelling tools to rediscover the past and inspire the future.
As an artist, producer, storyteller and educator (I teach classes and workshops at the School of the New York Times), I have always been passionate about the power of creativity and culture to uplift and connect us as human beings. Repurposing and remixing the past is the root of all creativity. The music, film, food, dance, stories we experience today are only branches on a generational tree rooted in the stories of those who came before us. We always consciously or unconsciously reference the past in our creative work. Archival storytelling brings to light that inherent creative connection and exposes the power of stories to teach us about the uniqueness of our lives while rooting us in a shared human experience. Bringing these connections to life and sharing them with others can illuminate and inspire the future of creativity on a global scale.
(Archivoz) Arbo Radiko's philosophy expresses two complementary ideas: bringing "new voices to bear on the past," and using the results to "inspire the future." What does that sort of dialogue entail?
(J.A.) Arbo Radiko collaborates with today's creatives to curate, remix and produce multimedia content, connecting untapped work with today's diverse audiences. Our studio is made up of a global collective of diverse creative leaders across audio-visual content creation, archival science, arts, and activism. We have seen this approach impact the future of creative work. For example, as a result of the multiplatform, collaborative Caffè Lena History Project that engaged visual, performance and digital artists in its presentation, we were invited to present a 3-part lecture as part of the MDOCS Documentary Studies program at Skidmore College, where the project is now being used as a model for the students' own projects. It's extremely satisfying to know that this intergenerational dialogue is happening and that the work – and the creative tree – continues to grow!
(Archivoz) You also mention "culturally responsive storytelling." Can you unpack that idea for us?
(J.A.) Culturally responsive storytelling is a critical approach to storytelling that engages our capacity to listen, learn from and relate respectfully to people from our own and other cultures. It focuses on the storyteller and an implicit commitment to create for others and ourselves space, representation, and agency over the telling of our own stories. We want to create a world of storytellers working towards diversity, inclusion and representation of the complete human experience in the stories we hear, tell and share.
(Archivoz) Caffè Lena and The Complete Concert by the Sea: what attracts you to projects like these?
(J.A.) All our projects are opportunities to give back to the wider creative community through a deep examination of influential spaces and artists who enhanced artistic genres and social movements, broke social and political barriers, and shaped culture. They are rooted in a spirit of collaboration, innovation, and social responsibility. The results (ASCAP and NAACP Award-winning multimedia presentations featured in the New York Times, People Magazine, Rolling Stone, NPR) served to enhance the value of these cultural institutions and to inspire younger generations through outreach programs with colleges and universities and unique partnerships with cultural organizations like the Library of Congress and the New Orleans Jazz Festival.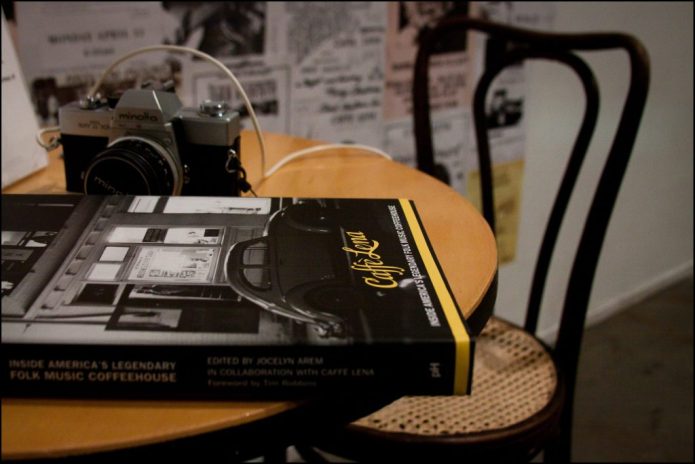 (Archivoz) In relation to your Caffè Lena project, you've referred to the importance of the small and the local in today's world of "bigness" (once in the introduction to your book, Caffè Lena: Inside America's Legendary Folk Music Coffeehouse, and again quoting David Amram in a presentation at the Library of Congress). Why is this important? Do you seek to bring this sensibility to all your work?
(J.A.) It is our mission to shine a light on and increase visibility for underrepresented creative voices. To quote in Julia Cameron's The Artist's Way, "the capacity for delight is the gift of paying attention." In a fast-paced world filled with the ever-booming noise of nonstop media content, marginalized stories are often overshadowed. We pay attention to those stories, exploring their meaning and bringing them to the masses. Value exists in unassuming places, and we should not take for granted the smaller moments (and materials) that make up our lives and connect us. By tapping into hidden archives—including simple but impactful letters, photographs, oral histories, and other memorabilia—the multimedia presentation we produced for Caffé Lena supported the venue in raising $2 million for its capital campaign and reach people around the world. Understanding the importance of all narrative elements helps us to unearth the small, simple truths that allow a story to resonate with as many people as possible.
(Archivoz) You were nominated for a Grammy (Best Historical Album) in 2015 for your work on Erroll Garner's The Complete Concert by the Sea. How did you approach this project? What story/history were you trying to tell?
(J.A.) This was a joint effort between the Erroll Garner Jazz Project, the Magic Shop Studio, the University of Pittsburgh, famed jazz pianist and educator Geri Allen, and Sony Legacy. It reexamined the life and legacy of Erroll Garner and his impact on both cultural and social justice history. It was an honor to work alongside this team of collaborators to uncover and organize Erroll's hidden archives, create a long-term preservation strategy, and, with contemporary artists like Geri Allen, reimagine his most famous recording in a creative presentation (3-CD box set, LP, website, live performances and educational panels) for today's audiences.
(Archivoz) How does point of view play into the process of archival storytelling? Can you adequately tell a story without to some extent adopting it as your own?
(J.A.) This is an important question that all storytellers in all mediums should be asking themselves and one that we are constantly examining: WHO is telling stories, and how does the teller's point of view impact a story's outcome? Our choice to engage with a story undeniably begins to shape the telling from our vantage point, which demands great sensitivity and awareness to potential institutional and generational social impacts. It is our responsibility to reflect critically on ways to open up space for a variety of perspectives in the telling of stories, so that we are as inclusive, culturally responsible, and socially conscious as possible.
We also actively and continually work to deepen our cultural awareness and sensitivity by engaging with a diverse community of archival storytellers in the field to gain new perspectives and skills. I am proud to be the Consulting Producer on an exciting new Open Archive Initiative for the Alliance for Media Arts + Culture that is creating space to explore this and other issues in our field. The Open Archive Initiative is a global, united ecosystem of thought leaders that will collaboratively address the need for collective voices to strategize best practices for creating impactful community-based preservation and access solutions. Participants include MacArthur, Guggenheim, GRAMMY, EMMY, ASCAP Deems Taylor, and Library of Congress Award-winning archival preservation and storytelling experts from independent, institutional and community-based content creators, cultural organizations, curators, technologists, archivists and documentary producers, to representatives from larger institutional media companies, archives and university libraries.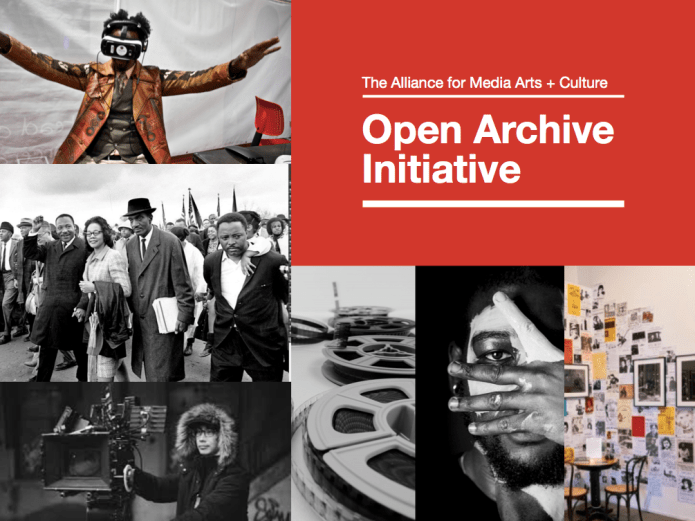 (Archivoz) Is it possible to tell someone else's story to/for them, or do you seek to inspire others to tell their own stories for themselves?
(J.A.) There is a global history of those with greatest privilege and access using their power to tell other people's stories in ways that negatively impact cultural understanding. Taking it as our mission to enhance access to stories and creativity for everyone, we help our clients tell their stories in a way designed to empower and uplift their vision. When representing creative individuals and organizations who are unable to tell their own stories, we utilize a deeply ethnographic, polyvocal approach, researching and integrating stories from community members and contemporary artists, and incorporating educational partnerships to create dialogue. We are inspired by organizations like Museum Detox, a network of BAME museum and heritage professionals at major cultural heritage institutions in the UK. This organization and others like it—such as Museum Hue in the United States—are working to empower diverse curators and storytellers to not only bring hidden stories to light but also to enable ALL voices to engage with and tell those stories, bringing about a more inclusive storytelling culture.
(Archivoz) If you could choose to tell any story in the world, what would it be and why?
(J.A.) I am interested in exploring the stories of creative artists and organizations worldwide. I would love the opportunity to pursue archival storytelling work in countries outside of the United States, to collaborate with international partners and share resources from my own work. If you know of artists or organizations that could benefit from our support, please send me an email at jocelyn(at)arboradiko.com. You can learn more about our work at Arbo Radiko at www.arboradiko.com.
Images:
Header image: Photo by Leslie Kahan (Used by permission of Jocelyn Arem)
Image 1: Photo by Sophie Brill (Used by permission of Jocelyn Arem)
Image 2: Composite: Denise Jans (https://unsplash.com/photos/Lq6rcifGjOU); Josh Woo (https://www.imdb.com/name/nm8243746/mediaviewer/rm2673030144); betafuture (https://www.youtube.com/watch?v=fOxl5WuYhBI)