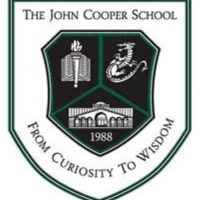 Website The John Cooper School
VISUAL ARTS TEACHER
DRAWING/PRINT MAKING/ COMPUTER AIDED DRAWING GRADES 6-12
The John Cooper School is an independent, non-sectarian, co-educational, college preparatory day school. The School's mission is to provide a challenging education in a caring environment to a diverse group of select students, enabling them to become critical and creative thinkers, effective communicators, responsible citizens and leaders, and lifetime learners.
The John Cooper School is seeking an Upper School Digital Photography teacher who also will have Middle School teaching responsibilities.  The applicant must be proficient in Photoshop, and other digital programs which supports our Upper School Digital Photography program. The position also requires applicants to be able to add expertise to a strong Middle School visual art program in the areas of drawing, printmaking, and digital photography.
The position requires a minimum of three years teaching experience in a school setting, a personal portfolio of digital work, as well as a portfolio of student work demonstrating proficiency in the required areas listed above.
Please do not submit portfolios at this time, they will be only be required upon contact via email from the Department Chair.  Candidates will be contacted directly about images of personal and student work later in the review process.
Interested candidates should email a resume, cover letter, statement of philosophy of education and references to:
Human Resources
The John Cooper School
email:  humanresources@johncooper.org