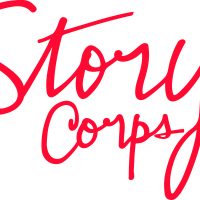 Website StoryCorps StoryCorps
Listening is an act of Love.
ABOUT STORYCORPS
StoryCorps is the acclaimed national nonprofit that preserves and shares humanity's stories in order to build connections between people and create a more just and compassionate world. Founded in 2003 by MacArthur Fellow Dave Isay, StoryCorps is the largest single collection of human voices ever gathered. To date, we have recorded and archived more than 200,000
interviews with more than 400,000 participants across the country through our interview programs. StoryCorps shares audio and animated excerpts of interviews with the world through popular weekly NPR broadcasts, social media and other digital platforms, educational curricula, and best-selling books. These powerful stories illustrate our shared humanity and show how much more we share in common than divides us.
ABOUT ONE SMALL STEP
At this moment, our country feels increasingly disconnected and tribal—our mutual distrust amplified by everything from social media to the efforts of forces seeking to weaken the foundations of our democracy. Many Americans feel unheard, alone, and angry.
Over the past 14 years StoryCorps has perfected a simple method for helping people feel more connected and less alone; for increasing hope and decreasing fear of the other; for reminding us all of the inherent worth of every person and every story. Up to this point, almost all of the people who have come to participate in StoryCorps have done so because they know and love one another.
With the One Small Step initiative, StoryCorps will put people on opposite sides of the political divides into a StoryCorps booth.  Participants won't come to argue about politics, but simply to get to know one another as human beings, to take one small step towards each other and remember that people they might have thought they hate are actually human beings.
POSITION OVERVIEW
The Radio Relations Manager for One Small Step (OSS) will organize and implement activities that support the creation of 6 OSS "hub" communities. Each of these communities will be anchored by a public radio station. The Radio Relations Manager for OSS will engage in the following activities:
● identify and enter into partnerships with the stations
● design and provide training, content and promotional materials that help local stations engage with diverse local participants to record OSS interviews
● help stations record and preserve OSS interviews (approximately 25 per station) in their local communities
● support stations as they create edited audio segments (approximately 3 per station)
● enable stations to implement local listening or other community engagement activities to raise their awareness, share StoryCorps stories and locally record OSS content.
This position operates with considerable autonomy and reports to the One Small Step Campaign Director. This position is expected to work collaboratively with leadership and staff in the Program division, including but not limited to the Managing Director of Interview Collection, Director of Community Partnerships and Associate Director of Research and Evaluation. In addition, this position will collaborate with Marketing and Communications, Development and Finance & Administration at StoryCorps.
The Radio Relations Manager position is a temporary, 15-month position, beginning October 2018 through December 2019.
ESSENTIAL DUTIES AND RESPONSIBILITIES
● Design, build, and disseminate production tools and training materials to local stations, tailoring based on station resources, capacity, and needs
● Support the preparation of reports (narrative, qualitative, and quantitative) for StoryCorps funders and internal organizational use
● Perform other duties to support the One Small Step Initiative and OSS Hub partnerships, as assigned
KNOWLEDGE, SKILLS, AND QUALIFICATIONS
Required:
● Bachelor's degree, or commensurate work experience
● Demonstrated experience developing and executing external partnerships or community outreach
● Knowledge of public radio industry
● Excellent public presentation and speaking skills
● Experience planning and overseeing complex project execution
● Comfort and ability to move seamlessly between varied political, social, and organizational environments in local communities — e.g., from nonprofits and foundations to corporations/ Fortune 500 companies, to policy-makers and government officials, etc.
● Creative & analytical thinking with a drive for results, and a demonstrated track record of creating and implementing new initiatives
● Excellent verbal, interpersonal, and written communication skills
● Strong organization skills, multi-tasking ability, and attention to detail
● Strong computer skills and proficiency in Microsoft Office (Word, Excel)
● Ability to work independently as well as collaboratively
● Flexibility and adaptability to contribute to problem-solving activities within a growing, changing organization
● Cultural competence and ability to work successfully with diverse groups of people
Preferred:
● 5-7 years experience managing collaborative programs or projects, preferably in a nonprofit environment
● Foreign language fluency (Spanish preferred)
HOW TO APPLY
Please send your cover letter and resume to employment@storycorps.org and include your last name and the position title in the subject line: for example, "Jones – Temporary Manager, Radio Relations – OSS." Include your cover letter and resume as attachments titled "YourNameLetter" and "YourNameResume." In your cover letter, please tell us how you found out about this opportunity and whether you have applied for a position at StoryCorps in the past.
StoryCorps seeks to hire staff who reflect the diversity of the communities we serve. All positions at StoryCorps are filled without regard to race, color, religion, sex, national origin, age, sexual orientation, gender identity or expression, disability, HIV/AIDS status, veteran status or any other characteristic protected by law. All are encouraged to apply.