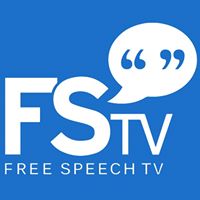 Website Free Speech TV
Free Speech TV
Now Hiring: Fundraising Events Coordinator for national, progressive, nonprofit media network.
Free Speech TV/www.freespeech.org – Denver, CO
Free Speech TV is seeking a successful fundraiser and project manager to join our dynamic and committed team in Denver, Colorado.  The Fundraising Events Coordinator works closely with the Development Director and other staff to create, plan and manage events that produce income, cultivate donor relationships, and increase public awareness of the network. Quarterly on-air pledge drives are the most prominent of these fundraising events.
Now approaching its 25th anniversary, Free Speech TV (FSTV) is a national, nonprofit, independent news network whose mission is to empower an informed and active citizenry to build a more just, equitable world. Powered by our viewers, FSTV amplifies the voices not heard on the corporate networks and lifts up the efforts of everyday people working on the front lines of social, economic, environmental, and racial justice. The team at FSTV believes a just, kind and sustainable world is built by people inspired by diverse voices, surprising conversations and fearless truth-telling. FSTV reaches over 40 million homes daily with daily news programs like Democracy Now! and The Thom Hartmann Program, with weekly current affairs series like Gay USA and Economic Update, with award-winning documentaries, and with special coverage of events and movements like Netroots Nation, She the People, Bioneers and the Poor People's Campaign: A National Call for Moral Revival.
Key Responsibilities: The Fundraising Events Coordinator provides project management expertise to a variety of fundraising events and initiatives. Specific responsibilities include, but are not limited to:
●        Assisting in the development of goals, strategies, tactics and timelines for fundraising events that maximize revenue, prospect/donor engagement and public awareness.
●        Effectively communicating development initiatives' goals, strategies, tactics, tasks and timelines to other members of the team, while coordinating activities across participating departments.
●        Tracking, analyzing and reporting on event progress, timelines and budgets, and ensuring that fundraising event goals are met.
●        Working with other team members to write and produce fundraising materials, including pledge drive scripts, direct mail appeals, online solicitations and other development and promotional collaterals.
●        Contributing to the overall organizational success by performing other duties and responsibilities as assigned.
Pledge Drives: The Fundraising Events Coordinator provides the primary project management of quarterly pledge drives, with both on-air and online components. Specific responsibilities include, but are not limited to:
●        Developing pledge drive timelines and managing cross-departmental participation.
●        Drafting appeal scripts and talking points, adhering to strategic priorities such as acquiring new donors and increasing the uptake of sustaining gifts. Coordinating the selection, price-points and posting of all thank you gift "premiums."
●        Working with production and programming staff to facilitate the video production of in-house pitches and the scheduling of all on-air pitches.
●        Coaching internal talent and program hosts to maximize the effectiveness of their fundraising efforts, while ensuring that their messaging aligns with that of the current drive. Communicating regularly with program hosts about their progress.
●        Working with the digital team to coordinate online appeals as part of each pledge drive event.
●        Managing the call center to ensure responsive customer service and accurate processing of gifts. Creating call center scripts, training call center staff, coordinating the listing of premium offers, setting call volume estimates and troubleshooting problems in a timely manner.
●        Tracking and analyzing pledge drive performance across programs, days/times, pitches, premiums and other tactics, with an eye for course-correcting shortfalls in a timely manner and building upon successes.
●        Managing the premium fulfillment process by tracking donor requests, ordering premiums, coordinating the efforts of the fulfillment house, and responding to donor queries and feedback, while ensuring that costs are contained to budgeted levels.
Other Fundraising Events: The Fundraising Events Coordinator provides project management of occasional other events (eg, house parties, stewardship receptions, program host meet-n-greets, etc.) designed to generate income, cultivate prospect/donor relationships and/or raise public awareness of the network. Specific responsibilities include, but are not limited to:
●     Working with the Development Director, Leadership Giving Officer and the executive leadership team, create a calendar of events, with event-specific goals, budgets and timelines.
●     Plan and manage these events, including logistics, invitations, publicity, volunteer support and overall fundraising performance.
●     Manage points of contacts with event hosts and guests prior to, during and after the event.
Candidate Requirements:  The ideal candidate for the Fundraising Events Coordinator position will offer:
●        Minimum of three years of nonprofit fundraising experience. Particular experience with pledge drives, call center management, fulfillment house management and digital fundraising is ideal.
●        Proven track record of successful management of critical, time-sensitive, multi-faceted projects that require seamless coordination of several teams with diverse areas of expertise.
●        Ability to develop and communicate a vision and to deliver on objectives through resourcefulness, creativity, diligence, focus and passion.
●        Ability to manage multiple assignments simultaneously and effectively, while meeting deadlines. Ability to plan ahead, to anticipate and respond proactively to challenges, and to make deft course-corrections when needed.
●        Impeccable organizational skills and attention to detail.
●        Excellent interpersonal, ambassadorial, team-building, verbal and written communication skills.
●        Demonstrated success in writing effective appeals, with a sensitivity to audience, tone and timing. Graphic design skills are a plus.
●        Proficiency with office technology and information systems (including Word, Excel, Outlook PowerPoint, Google Docs and Sheets).  Experience with CRM data management, particularly with Salesforce for Nonprofits, is ideal.
●        Personal commitment to FSTV's mission and values and familiarity with progressive media and social justice organizations.
●        Strong work ethic, demonstrating personal initiative, responsibility, maturity and a commitment to results.
●        Collegiality and a good sense of humor, employing a welcoming, collaborative approach and a strong team-oriented style.
●        Bachelor degree or equivalent experience.
Reports to: Development Director
Salary Range: $50-55K per year.
Benefits: FSTV offers competitive pay and a generous benefits package that includes medical, dental, vision and other benefits.
To Apply: Please submit a cover letter, resume, and professional references to kristi@freespeech.org. We anticipate filling this position quickly. Top candidates will be invited for an interview and may be asked to show examples of prior fundraising experience.
Free Speech TV is an Equal Opportunity Employer and is committed to fostering a diverse workplace.