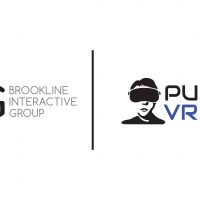 Website Public VR Lab Brookline Interactive Group/Public VR Lab
Brookline Interactive Group is a next-generation community media arts center, rooted in the tradition of public access television. We provide tools, equipment, training, events, workshops, distribution channels, grants, inspiration, and community-building activities to inspire and support diverse local voices in creating their own media.
We do this in traditional and emerging media, on cable channels and on YouTube, in narrative and documentary film, and in VR/XR through our project, the Public VR Lab, the first publicly-funded Community XR lab in the U.S.
We facilitate community dialogue through media expression, provide transparency in local government and train children and adults to create, express, challenge, document, narrate, tell stories, cover news, design and explore media creation in all its forms.
We're hiring for a Manager of Development & Education at Brookline Interactive Group & Public VR Lab to help expand our public access mission and build the field of Community XR locally & globally.
Looking for candidates with passion and experience in public accessibility, civic engagement, development, digital equity, and media/tech education to join our awesome team!
Our work supports community arts, cultural, civic engagement, govt, libraries, film festivals, and media organizations to build grassroots VR/AR resources and education programs, develop storytelling projects, and create locally-focused experiences in their communities.
Please read the job description here and email info at Brooklineinteractive [dot] org with your resume and a cover letter describing your interest and relevant experience for the position by May 9th, 2019 at 11:59 PM. Excellent benefits; full time, exempt, career position. No calls, please.