From the Executive Director
"Dominator culture has tried to keep us all afraid, to make us choose safety instead of risk, sameness instead of diversity. Moving through that fear, finding out what connects us, reveling in our differences; this is the process that brings us closer, that gives us a world of shared values, of meaningful community."
bell hooks Teaching Community A Pedagogy of Hope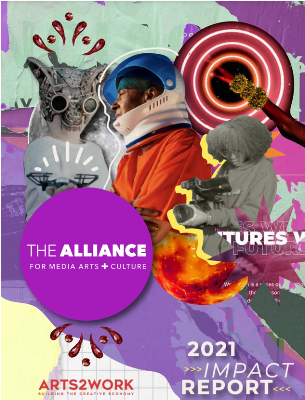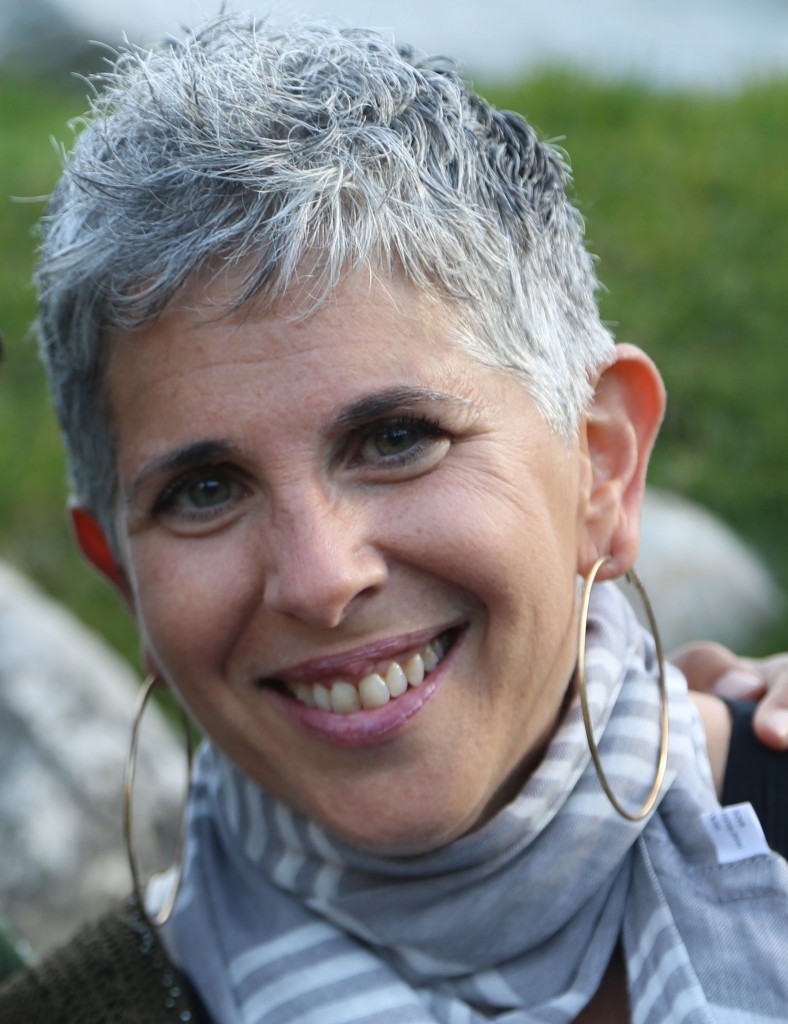 This January, we are looking forward and back, assessing the impact and challenges of 2021, planning a 2022 calendar of real and virtual gatherings, trainings, labs and celebrations, growing creative Apprenticeship across the country, launching the XR Culture Gallery, asking our members how things are and what they need, talking to funders and investors about innovation strategies and creative workforce models, and finalizing a new 3-year plan entitled Deepening Equity: A Plan for Building Abundance and Shared, Connected Futures. We also have an impact report to share, designed by Colombian artist Alejandra Chacón.
In Lynnette Wallworth's stunning film monologue at Sundance this week How To Live After You Die, she talks about her personal experience coming of age as a prophet in a radical Christian community, interwoven with insight about her past creative work in VR, documentary and installation, and her here-and-now presence in the world. It is a profound story, a memoir of struggle, belief, and love. She got me thinking about what I believe, and the beliefs The Alliance puts out into the world and expresses through its work and commitments to justice, freedom of expression, equity, belonging, access and unbridled creativity.
I thought that this January, a beginning in the middle of an uncertain time, might be the perfect moment to restate the beliefs we articulate as an Alliance, to let our expansive community know that together we hold space with you for the work ahead, facilitating connections, architecting the future, and co-creating all that comes next.WHAT WE BELIEVE:
We believe in building inclusive networks for artists and organizations committed to powerful creative storytelling that engages the collective imagination.
We believe in creating access to technology and mentorship for underserved and underestimated peoples.
We believe in preserving and celebrating diverse cultures and intergenerational communities and protecting free expression as the common language of a democratic society.
We believe in the importance of gathering together.
We believe that artists are leaders.
We believe in equity, opportunity for all, and fearlessly upholding creativity as an engine of social transformation.
May this be a year of measuring our success by the quality of our relationships and the value of the work and the ideas we put into this world together. Please join + contribute, follow us on social, and attend a virtual gathering, class or roundtable. We build this Alliance like we build the world.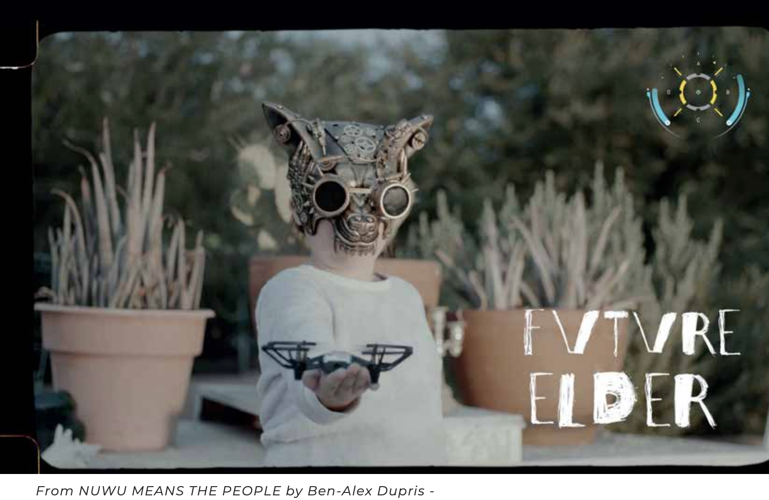 ~ Wendy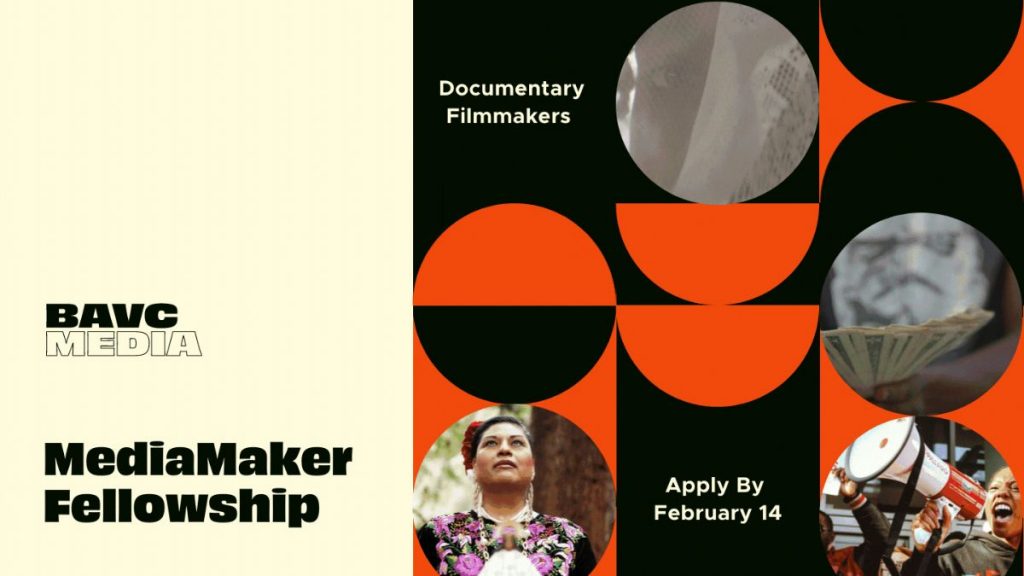 Notes from the Field
Applications are now open for the 2022 BAVC MediaMaker Fellowship!
Early-career documentary directors are encouraged to apply for the Bay Area Video Coalition MediaMaker Fellowship. Bay Area Video Coalition are looking for nonfiction filmmakers with a bold vision, especially those who are traditionally under-represented in film, to participate in this year long experience. Along with tailored workshops, intimate conversations with established filmmakers, and in-depth feedback sessions throughout the year, fellows receive $10,000, paid festival attendance, and future opportunities from BAVC Media as a program alum. The deadline for the fellowship is February 14th. BAVC encourages prospective participants to apply early.
The Territory Premiers at Sundance to Enthusiastic Reviews
The debut film from director and cinematographer Alex Pritz, produced with the aid of of Doc Society's Climate Story Fund, premiered at Sundance last week and was promptly received favorably by critics from RogerEbert.com and Screen Daily. The Territory explores the struggle of the Uru-eu-wau-wau people as they battle against the development of their protected stretch of rainforest in the Brazilian Amazon. According to Tara Judah, writer for Screen Daily, The Territory "is moving precisely because it goes right to the heart of what filmmaking can be – a tool to capture, control and explicate a unique world view."
Grants and Calls
The Film Fund
The Film Fund is offering a total of $50,000 in film funding, up to $10,000 per project as well as in-kind resources like post-production assistance and equipment rental. They are seeking short films with a strong premise. Participants will submit a single sentence describing the premise of their film and how the funding will aid in its completion. Judges will then choose the winners based upon the participants one sentence statements.
Deadline: February 8

Sundance Offering Two Film Production Labs
Both Documentary and Feature Film producers are invited to apply for Sundance's Creative Producing Labs. The Producing Labs will be a year-long mentorship program, where participants will receive guidance from a range of industry professionals and Sundance staff. "The program is designed to hone emerging producers' creative instincts and evolve their communication and problem-solving skills at all stages of productions."
Deadline: February 10

Film Independent Episodic Lab
This coming July 6-8 writers will have the opportunity to participate in the Film Independent Episodic Lab. The lab will provide industry veteran mentorship to Fellows to hone their skills in writing episodic content. One participant in the lab will be receive $10,000 from the Alfred P. Sloan Foundation. Prospective grant recipient's proposed work should highlight the Foundations mission to "support high quality, impartial scientific research."
Deadline: February 11

SFFIL Rainin Filmmaking Grant
Filmmakers producing work that addresses pressing social justice issues are invited to submit to the SFFIL Rainin Grant program. Awards include Development grants of up to $25,000 and Post-Production grants of up to $40,000
Deadline: February 25th

Workshops, Festivals, Convenings
Sundance, Park City, UT – January 20th – 30th

Slamdance, Park City, UT – January 21st – February 6th

Berlin International Film Festival, Berlin, Germany – February 10-20

Big Sky Documentary Film Festival , February 18th – February 27th

Hollywood Reel Independent Film Festival , Hollywood, CA – February 12th – 28th\
Media Policy Watch
As concerns around educational institutions using so-called "critical race theory" to indoctrinate young people mount, lawmakers nationally have introduced a total of 71 bills limiting curriculum material in the last three weeks as tracked by PEN America. PEN America has kept an updated index of what author Jeffrey Sachs terms "educational gag orders," which currently total 122 introduced since January 2021, and 88 currently live. Strong ideological condemnations are included in some of the recent bills, such as HB 1040 in Indiana which warns that "students must be instructed that if any of [Socialist] systems were to replace the current form of government, the government of the United States would be overthrown and existing freedoms under the Constitution of the United States would no longer exist." The bill however does not provide evidence for how limiting curriculum related to racial equity would prevent such an insurrection from taking place.
On January 12th, with bipartisan support from around the country, the Comprehensive Resources for Entrepreneurs in the Arts to Transform the Economy (CREATE) Act was introduced. The bill seeks to provide federal support to the arts by expanding the Microloan program qualifications to include the creative economy, allow the Small Businesses Administration (SBA) to "develop procedures on evaluating the business proposals and plans of non-employer business and small business concerns that focus on varying aspects with regard to the creative economy," utilize the SBA to create a technical assistance program to benefit artists, and create a demonstration program to provide grants to arts agencies and nonprofits. Supporter of the bill, Michigan Congresswoman Debbie Dingell, spoke at length about how the bill could help Michigan artists thrive saying "This legislation invests in our workforce and creative industries, while ensuring artists have the resources to grow their business and share their artwork so we can continue to attract visitors to our state and create jobs."