Black History, Black Futures
Alliance member organizations honored Black History month 2023 with national exhibitions of work by Black artists, community screenings of projects by Black filmmakers, conversations that uplifted the voices of Black creatives and culture workers, and Arts2Work showcases designed to celebrate emerging BIPOC mediamakers and connect them to opportunities to deepen their practice and earn a living.
The Alliance was invited by EPIC Games this month to present the work we've done with the XR Gallery and its first exhibition ANCESTRAL FUTURISM: Unapologetically Melanated. Creative Technologist Sadah Espii Proctor and Producer Valentina Vargas presented the work of the Gallery and the collaborative process that informed its creation. We showed a short film created by Siraj Jhaveri for the Alliance, exploring the space for those who do not have headsets. The Gallery is now in public preview via the Oculus App Lab, and we invite museums and community organizations to get in touch with us if you'd like experiment and build your own experiences and exhibitions for the Gallery. In all our Innovation Studio work, we see to leverage industry to benefit community, and Epic has been an extraordinary partner in this effort. It was a joy to celebrate Black History Month with them, and their kick ass community manager Evan Collins.
This month, we are also having a Conversation/Braintrust on the Future of Open Media Archives on February 28. Through the lens of "everyone is an archivist," we will hear from experts about the challenges and promise of preserving archives and protecting vulnerable communities, while also opening the contents to future generations. How can we remix and reimagine with wisdom, trust and accountability? What new technologies are being designed to expand and enrich access to archives that are also potentially dangerous and extractive? We'll hear from Pamela Yates and Paco de Onis from Skylight, Andy Beach, Alliance Board member and Chief Technology Officer for Global Media at Microsoft, Xaviera Flores, Archivist at the UCLA Chicano Studies Research Center, Jocelyn Arem, Grammy-nominated and Library of Congress Award-winning music archivist, archival consultant and documentarian, and Archivist/Curator/Producer Martha Diaz, ED and co-founder of the Hip-Hop Education Center. Full recording and highlight reel will be posted soon after.
It is exciting to see creative Apprenticeships growing in this country — through Arts2Work and the many partners who are committed to this effort. Big thanks to the Entertainment Equity Alliance, NBCUniversal for their investment in the Arts2Work Accelerator Fund, and the organizations launching new Arts2Work-affiliated programs soon: Community Cultural Collective, Pittsburgh Pop District, KUST Native Media Fellowship, and WLCAC. This is going to be a year where we deepen our support of creative businesses and arts organizations in communities across the country, demonstrating to the industry the power and dignity of certified creative Apprenticeships for the next generation of storytellers and creative workers. As always, we hope you'll join us.
At this close of Black History Month, it is actually the beginning of the rest of the year centering, celebrating and supporting Black/BIPOC creativity. We are honored to be the fiscal sponsor of the work-in-progress documentary film and impact campaign Acts of Reparation, by Selina Lewis and Macky Alston. Their community of individual and foundation supporters is a fierce and mighty family of visionary people joining together in support of the work. We can all help this very important film get finished and out into the world. Their donation page on the Alliance website is here.
In solidarity,
~ Wendy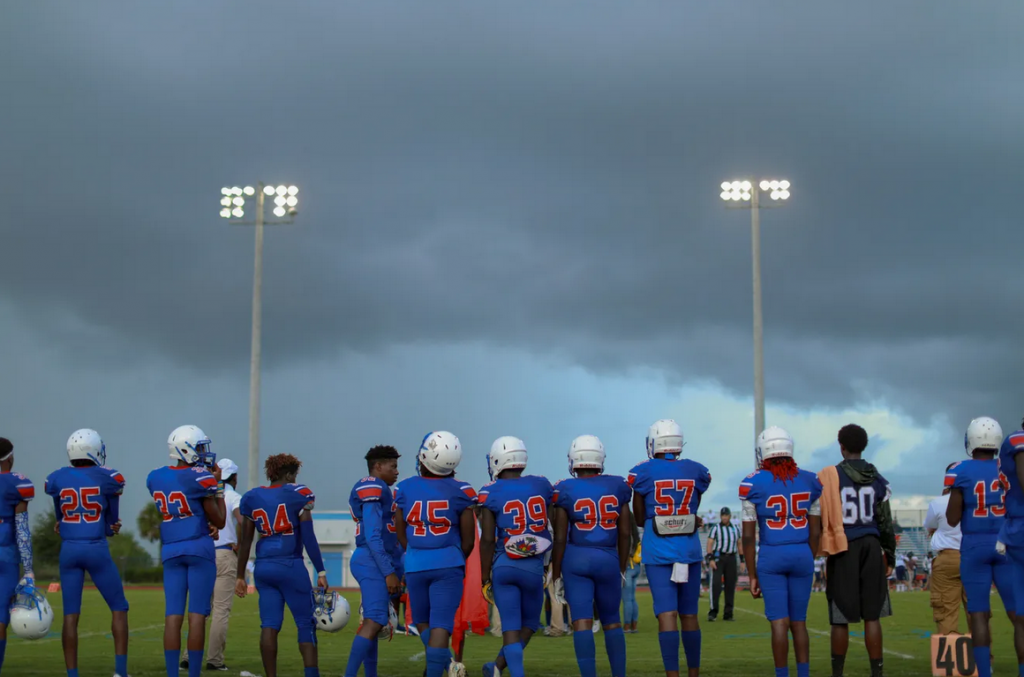 Notes from the Field
Outta the Muck Airs on PBS Independent Lens
Filmmakers Bhawin Suchak and Ira McKinely's "narrative of Black achievement," Outta the Muck aired earlier this month on PBS and started screening at film festivals, premiering at Big Sky Documentary Film Festival last Thursday. The documentary highlights the football legacy of Pahokee, Florida, focusing on high school football team the Blue Devils' championship journey, and the stories of the surrounding community "We're taught so much in this American culture to be individualistic and materialistic, and to me, this is a radical look at a community that rejects that way of living and looks to each other." said director Bhawin Suchak as quoted in an article in The Palm Beach Post. The documentary is currently streaming on PBS for a limited time.

RYSE Center Featured in The Guardian Article on Gun Violence in Richmond
In a recent The Guardian article 'The Kids Need Help': How Young People Want Adults to Tackle Gun Violence, multiple RYSE participants discussed the ways the organization provided them a supporting, creative community to help process the effects on gun violence on their lives. The young people profiled discussed their own specific experiences, and their dissatisfaction with the lack of clearly available resources.
Grants and Calls
World Cinema Fund Production Grants
German production companies working with international filmmakers from often underrepresented regions and countries are wanted for Berlinale's World Cinema Fund Production Grants. The grants offer up €60,000 to be used by the companies to support the region they are working in.
Deadline: March 1st

Sundance Episodic Program
Selected writers will have the opportunity to develop an original television series with the support of the Sundance Institute through their Episodic Lab. Participants will work with a team of experienced professionals to support their careers, skills, and projects. Deadline: March 8th

Maine Humanities Council Mini Grant
Funding from the State of Maine is going to assist local nonprofits in developing humanities based public projects. They are specifically looking for projects that "are participatory […] invite discovery of the humanities, […] are free, and are collaborative." Grantees have the opportunity to receive up to $2,000.
Deadline: March 21st
Workshops, Festivals, Convenings
Sundance Film Festival 2023, January 19th-29th, Park City, UT

Slamdance Film Festival, January 20th–29th, Park City UT

Cinema on the Bayou Film Festival, January 25th-February 1st, Lafyette, LA

Big Sky Documentary Film Festival February 17th– 26th, Missoula, MT

Santa Barbara International Film Festival February 8th-18th, Santa Barbara, CA

Media Policy Watch
A BBC documentary investigating the political career of Indian Prime Minister and member of India's Hindu-nationalist Bharatiya Janata Party, Minister Narendra Modi, was banned in India. India: The Modi Question is a two-part series that analyzes Modi's part in the 2002 Gujarat Riots, in which "Hindu mobs target[ed] the homes of Muslims across the state." With "more than 1,000 people [dying] in the riots, most of them Muslims." according to The Guardian. Modi was Gujarat's Chief Minister at the time of the riots. The film series also looks critically at his administrative policy following his 2019 reelection as Prime Minister.

Two weeks ago, the BBC offices in India were raided by officials from India's tax department. Aakar Patel, Chair of Amnesty International India's board, issued a statement on the raids calling them a "blatant affront to freedom of expression" and claiming that the Income Tax Department has used raids as a bludgeon to intimidate a number of organizations including the NGO Oxfam India.
Job Bank
Communications Director, Chicken & Egg Pictures – Brooklyn, NY

Media Instructor, Manhattan Neighborhood Network – New York, NY

HR Recruiting and Training Coordinator, KEXP – Seattle, WA

Executive Director- Miami Film Festival, Miami Film Festival, Miami Dade College – Miami, FL

Associate Director of Development Educational Video Center – New York, NY

more jobs on the Job Bank