Por primera vez, como humanidad, nos concentramos
alrededor de nuestro celular, viendo al mundo
girar más rápido por la tecnología que este
pequeño objeto nos da. Al mismo tiempo, sin poder
salir de nuestras casas, "viajábamos" al otro
extremo del mundo y nos enterábamos de lo
que pasaba en ese lugar como si fuera nuestro
vecindario. Vimos que se podía escribir la historia
de otra forma, y no solamente desde el punto del
colonizador que después llamamos héroe. El poder
de esas ideas nos dio la oportunidad (que nos
negaron) de reconstruirnos y hacer un alto en el
camino para comenzar a contar la otra cara de la
historia. El 2020 nos mostró que tenemos que tirar
al piso los conceptos arcaícos de nuestra sociedad
y que pensar en comunidad nos hacia alzar la voz
de distintas formas, espacios y colores, atravesando
los muros de lo físico a lo digital.
For the first time, as humankind, we are obsessed with
our cell phones, watching the world spinning faster
due to the technology provided by this little object.
Meanwhile, without being able to leave our homes,
we "traveled" to the other side of the globe and we
learned about what was happening there as if it were
our own neighborhood. We saw that we could write
history in a different way, and not only from the
colonizer's point of view, who we later call a hero.
The power of these ideas gave us the opportunity
(which was denied then) to rebuild ourselves and
create a new path to start talking about the other
side of history. 2020 showed us that we need to bring
down the archaic concepts of our society and that
thinking as a community made us raise our voices
in a series of ways, spaces and colors, crossing the
boundary from the physical to the digital.
Hansel Obando on the cover art
To meet Hansel, download the ARTIVIVE app on your
phone and hold it up to the cover image.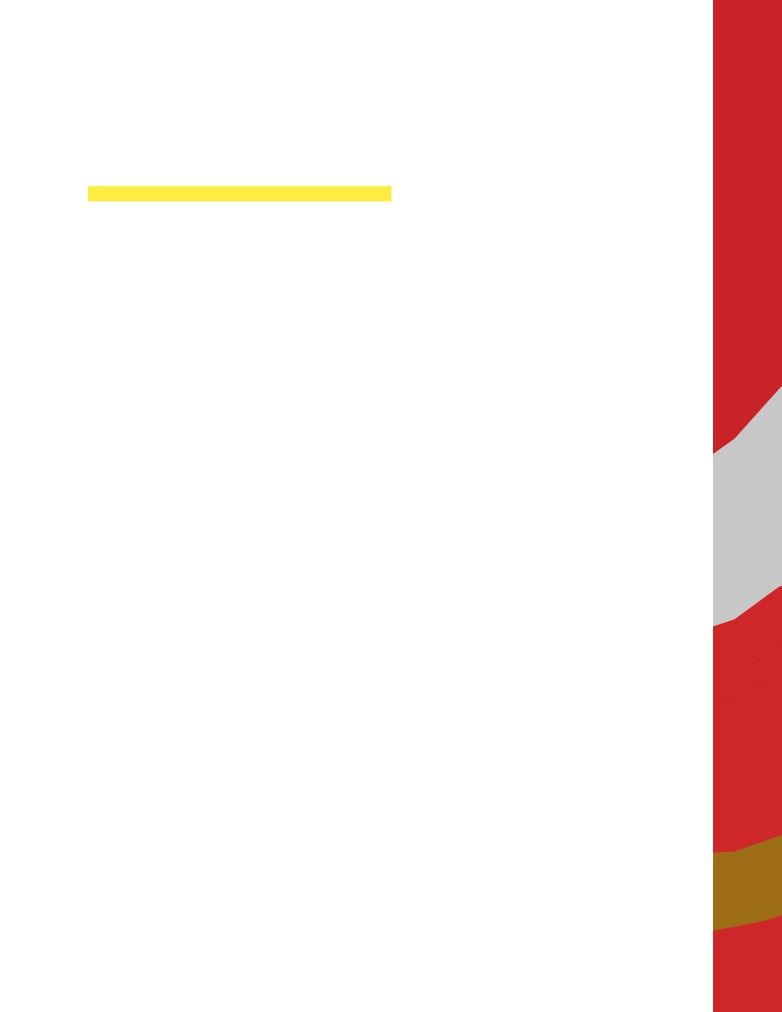 LETTER FROM THE EXECUTIVE DIRECTOR
This year, The Alliance for Media Arts
The voices of our elders, ancestors and
+ Culture turned 40 years old.
It feels
young leaders and ring in our ears. Toni
surreal to celebrate our achievements
Morrison: Artists must never choose to
nearing the end of such a devastating year
remain silent. Spike Lee: If you are not
in our nation's history—and completely
mentoring you are not doing your job.
Nanfu Wang: It's not about extending my
life expectancy, the length—but expand-
Through the darkness of the pandem-
ing the width of my life. Every time I make
ic, of innocent Black lives lost to police
a film, the film also makes me." And from
violence and persistently threatened
Ava Duvernay, "When you are in your lane,
by systemic racism (#blacklivesmatter),
of native women missing and murdered
(#MMIWG2S), of journalists targeted,
During this year defined by the global
imprisoned and killed—we affirm the lives
pandemic, The Alliance has been defined
of Black queer/trans folks, the disabled
by the deep connections forged with
and undocumented, the formerly and cur-
our member organizations and new
rently incarcerated, women and girls and
partnerships across the field. Our lane
all whose stories and urgent voices have
was clear. We moved all existing and new
been marginalized, excluded or erased.
programs online as quickly as possible.
The Alliance is a network of networks
We held
Executive Director Roundtables
that stands in solidarity through cre-
beginning in March, holding a safe space
ativity, justice and access; our programs
for media arts leaders to be both vulnerable
forge pathways to support our collective
and visionary. Our
National Youth Media
imagination, our ability to dream, co-cre-
Network
held its Virtual Summit over three
ate and share media, and to build abun-
months in the spring of 2020, offering the
dance, joy, and freedom from oppression.
first COVID-inspired media workshops

for teachers and librarians on how to
the Arts.
Arts2Work
is our new creative
connect with youth online. We also doubled
workforce initiative including the first
down on our innovation work thanks to a
national Registered Apprenticeship
generous grant from EPIC Games to begin
Program focused on new job pathways
the design a project called the
Brown
for media producers, directors, editors
Girls Mythic + True Story Gallery
, an
and game developers, and building new
immersive web-based VR museum of art,
infrastructure to support local community
film and photography by BIPOC women
media centers. We are seeding virtual earn-
storytellers and artists from around
and-learn programs across the country,
the world—one that will be shared with
and launching an
Online Learning Hub
member organizations for their own future
with free industry-endorsed video tutorials
exhibitions, media education programs and
and virtual one-on-one mentorship. The
community building. Early in the year we
National Day of Storytelling
, originally
leveraged an NEA Cares grant to keep our
planned as an in-person celebration of our
Open Archive Fellows
at work, researching
40th Anniversary at the National Center
the impact of new technology and anti-
for Civil and Human Rights in Atlanta,
blackness on the arts + culture archives
became a daylong live streamed festival
of the future. And we've been able to scale
of true stories, poetry, performance and
workforce development efforts thanks to
conversations that illuminated the voices,
multi-year support from the MacArthur
experiences and contributions of artists
Foundation, The Arthur Blank Foundation,
and communities around the world.
Adobe, and National Endowment for
We are optimistic that we will be able to
thrive through the current and future
uncertainties, and we are not alone.
Nurturing our togetherness, building vibrant
partnerships and friendships, listening to the
youth and the scientists, and speaking truth
to power will get us through.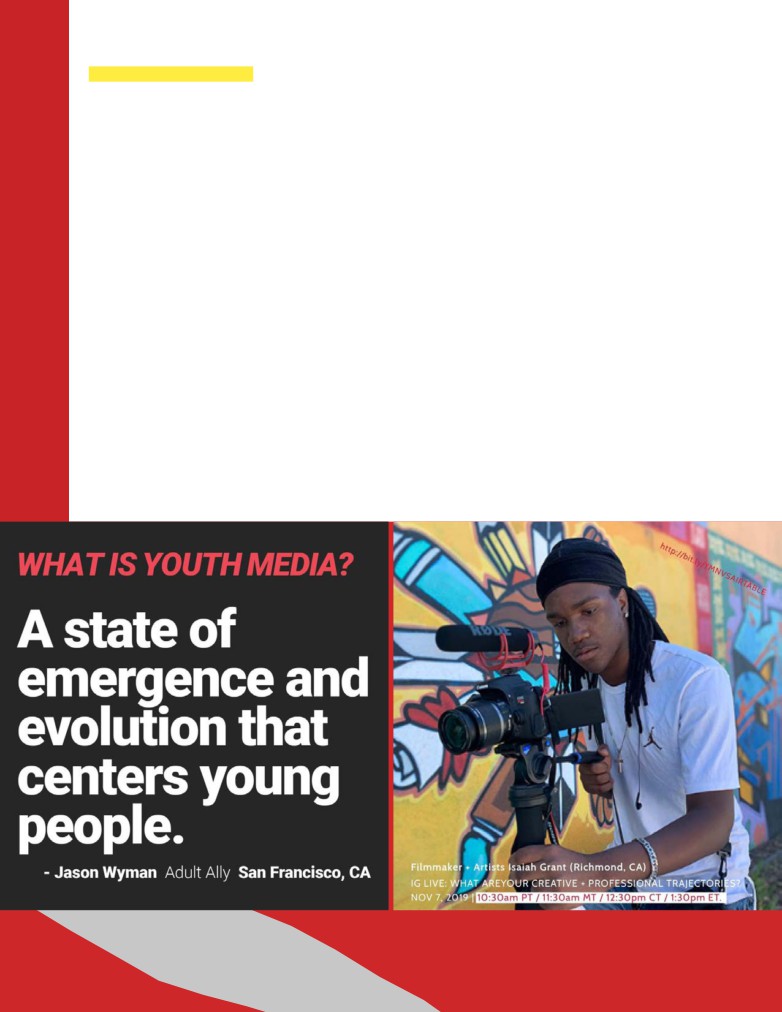 NATIONAL YOUTH MEDIA NETWORK /
Virtual Youth Media Summit
THEALLIANCE.MEDIA/PROGRAMS/VIRTUALSUMMIT
Consulting Producer:
Jason Wyman
Fellows:
Kapiolani Lee, Aden Suchak, Kafi-Ayanna Allah, Mamadou
Cellou Diallo, Montero Morton, Triana Patel
Three months of virtual workshops and roundtables designed by young artists:
youth voices responding to social unrest and uncertainty.
6 Fellows
hired and mentored,
6 media projects
created,
8 comic zines
commissioned and co-created,
2 podcasts
.
18 national online events
produced and facilitated,
40 one-on-one virtual conversations
held,
40 partner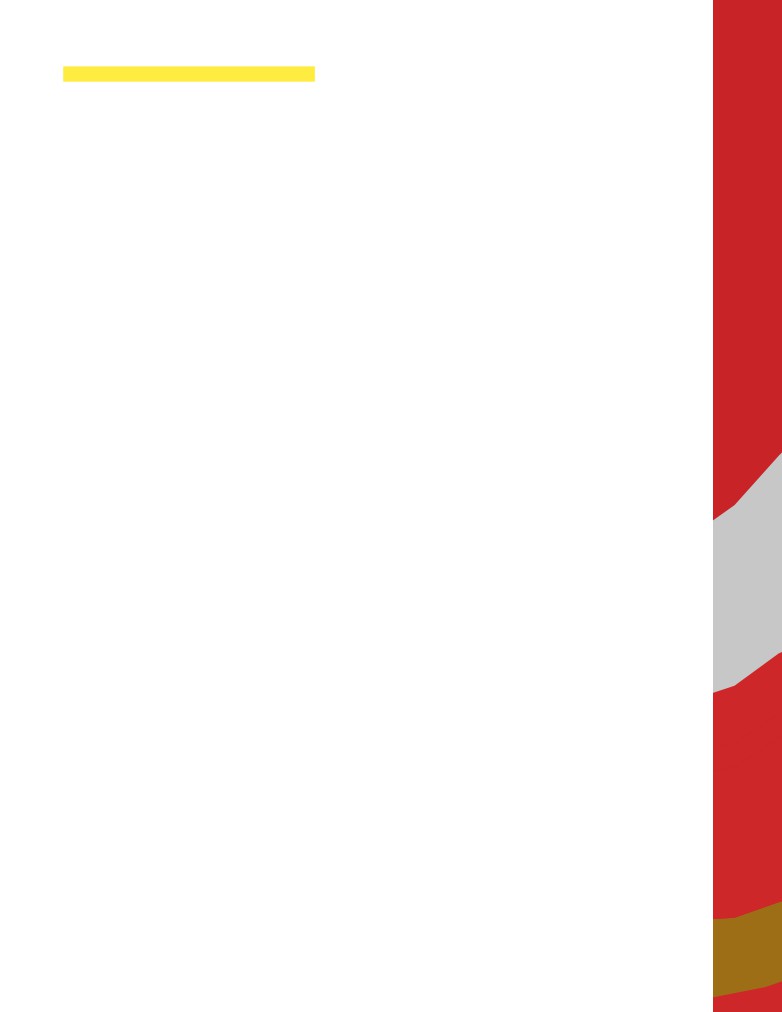 ETHICS, CULTURE + TECHNOLOGY
INNOVATION CULTURE STUDIO
The Innovation Studio provides a space to support the development of unique interactive
digital media projects, platforms, tools and approaches to storytelling designed to foster
strong, resilient creative communities. We think in systems, build replicable models, and take
risks with new technology. Our teams are diverse, intergenerational and collaborative.
We bring together a team of creative and tech experts based on the needs of the project; the
central requirement for inclusion in the Innovation Studio is a commitment to sharing out the
development process with the field and making the project available for replication in diverse
communities and contexts. In every case, we publish any code, share the data and provide
templates or toolkits to enable meaningful and effective adoption.
This year in the Innovation Culture Studio:
The Alliance Open Archive Initiative gathered over 40 cultural preservation, digital archive
and storytelling experts to collect and synthesize collaborative strategies and ethical, cultural
and technological issues in building open digital archives. Independent media organizations
around the world may reflect the diverse cultural identity of communities, but they may also be
rendered invisible because the content and stories generated are not being preserved, shared
or made accessible to future generations.
Lead Producer:
Jocelyn Arem
BROWN GIRLS MYTHIC + TRUE STORY GALLERY: $200,000 RAISED
Brown Girls Mythic + True Story Gallery went into development in 2020: an immersive
webVR museum of art, photography and film/video by BIPOC women storytellers from
Brown Girls Team:
Production + Curatorial team: Afua Kafi-Afua, International Center of
Photography, Chanelle Elaine, Creative Bionics, Valentina Vargas, Colombian filmmaker +
producer, Kali Spitzer, Indigenous/Canadian photographer and producer Cassidy Arkin
THE COLOMBIA PROJECTS: LABORATORIO EN LAS FRONTERAS + SIN VIOLENCIAS
Designed and produced in collaboration with ZERO1 and the US Embassy in Colombia
Laboratorio en Las Fronteras was a monthlong creative lab exploring migration, identity
and life at the Colombian/Venezuelan Border. A virtual gallery, created in partnership with
view/5ec018c8ce658c6828e58d89. Sin Violencias was a creative lab exploring new
perspectives on gender violence with artists + survivors in Bogota.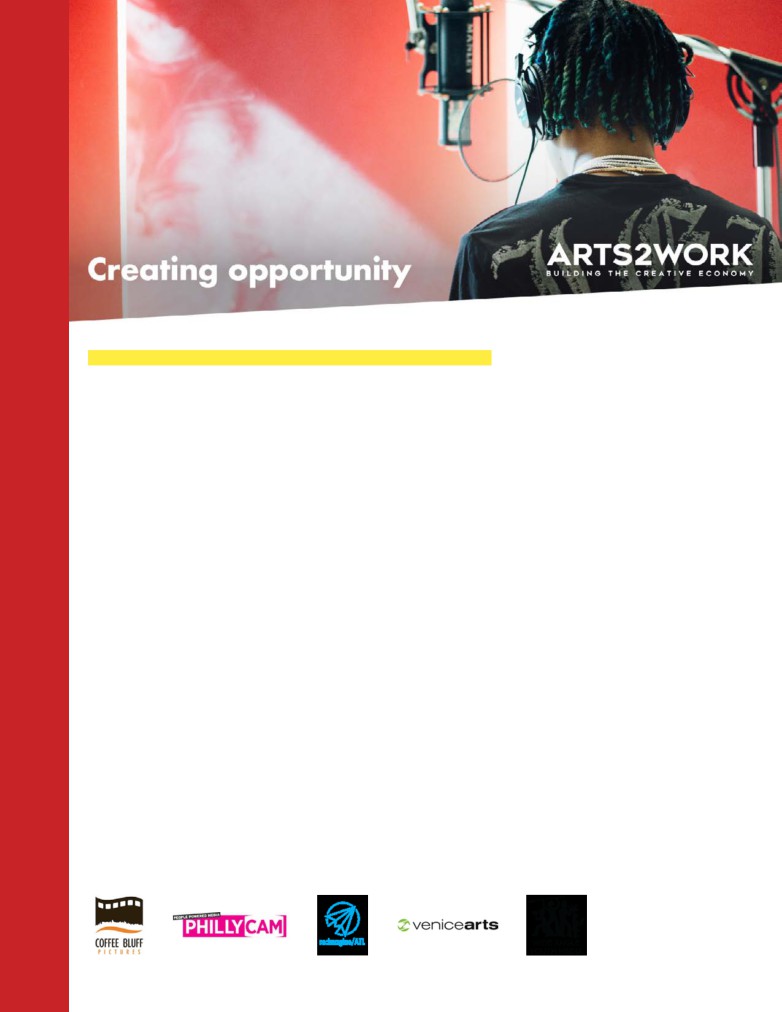 A NEW PARADIGM FOR THE FUTURE OF CREATIVE WORK
Producers:
Ajani Amiri, Shawn Jackson, Sonia Dowuona
ARTHUR BLANK FOUNDATION TO
SCALE ARTS2WORK IN ATLANTA
First Arts2Work Apprentices
hired, trained and mentored
in Baltimore, Philadelphia and Atlanta.
National Endowment for the Arts funds the
Arts2Work
Supported community organization partners
raising
$400,000
in new creative workforce funding
Built relationships
with government workforce agencies
in Philadelphia, Baltimore and Los Angeles that had
never before funded Apprenticeships in the arts.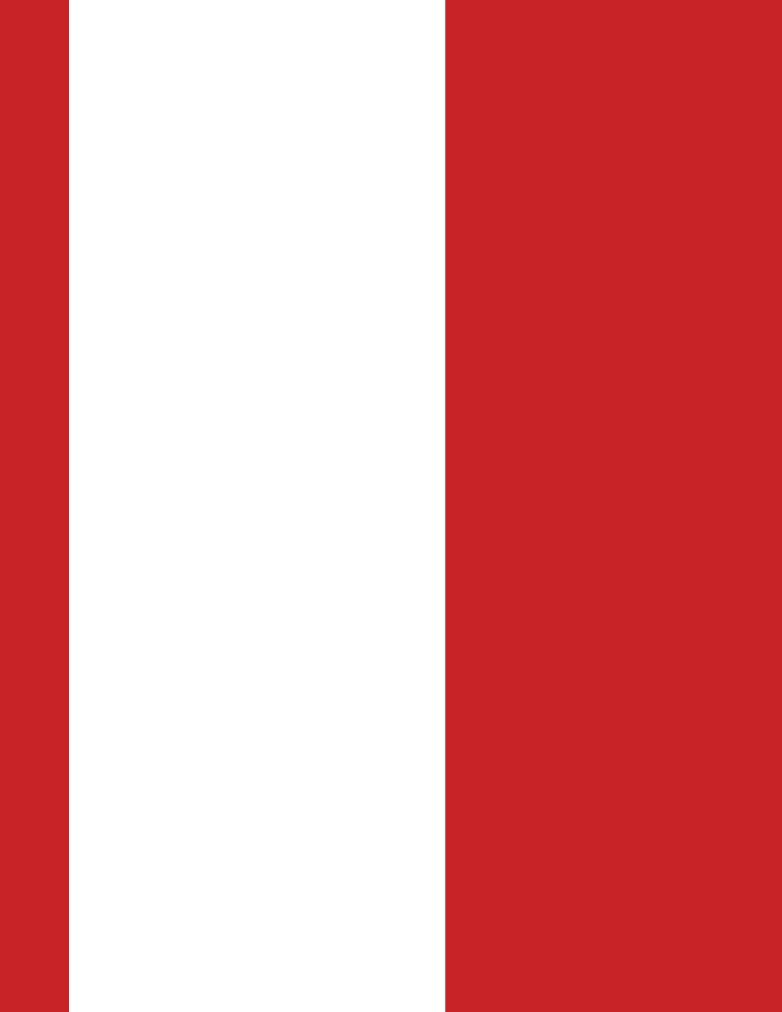 Macky Alston and Selina Lewis
Macky Alston and Selina Lewis Davidson,
friends and filmmaking partners for 25
years, white and Black, set out to explore the
possibility for reparations in the
In this documentary film about the World
Famous Suicide Race, an aging cowboy works
around the clock to teach his grown son a
legacy of horseracing, after a wild rodeo
lifestyle nearly took their family name out of
From the producer of the award-winning VR
films Awavena + Collisions, the Yawanawa
Spiritual and Cultural Project supports
creative storytelling and community activities
of the Yawanawa tribe in the Brazilian Amazon.
THE STANLEY HAYAMI VIRTUAL
Nonny de la Pena and the Japanese-American
Using cutting-edge, immersive media, this
virtual reality project brings to life the story of
Japanese American teenager Stanley Hayami.
Tracing his journey from home in the San
Gabriel Valley to life in a concentration camp
and military service during World War II.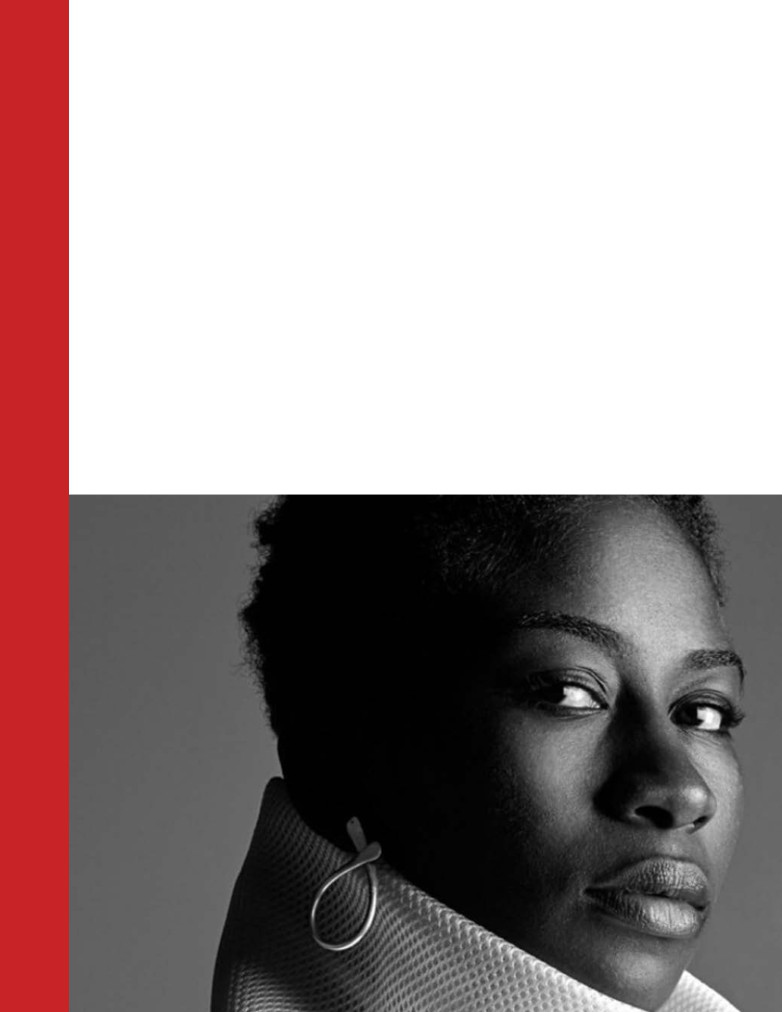 Storytelling Matters Blog
Job Bank, National Arts Advocacy, Executive Coaching,
Creative Leadership Labs, Equity Labs
Co-Producer:
Priscilla Genet
Our process in community reflects a shift in perspective
and scale that both reassures and clarifies: we all want
to help nurture and protect the creative, youth-centered
community spaces in which young artists flourish. This
kind of youth media work centers the question "Am I Doing
Kapi'olani Lee, Alliance Youth Media Fellow