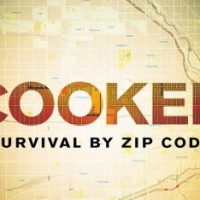 Website Cooked the Film
SEEKING PART-TIME FILM SCREENING/COMMUNITY CONVERSATIONS COORDINATOR
With deep knowledge and interest in racial justice, public health, and the climate crisis and relationships with frontline community organizations in California 
The engagement team behind Judith Helfand's award-winning documentary Cooked: Survival By Zip Code, a searing exploration of racism, extreme health inequity, and the climate crisis, seeks a passionate, well organized, creative and kind organizer who wants to fuse their commitment to public health and racial justice with their belief in building strategic and mutually beneficial partnerships to serve and strengthen local communities. 
The position: To work with the film team and California-based partner, Public Health Advocates, to organize and coordinate four virtual events for a California audience.
The first will be a listening session at the end of July with frontline organizations across the state that are addressing racism, public health, and/or climate justice. This kickoff event will enable the team to hear from community organizations about their work and whether they are aware of and engaged in the recent resolutions passed by 34 California jurisdictions to declare racism a public health crisis (see BEYOND DECLARATIONS info below).
The second two events will take place end of September and will be open to the public. They will include screenings of the 21-minute version of the film, followed by a panel discussion and audience Q&A exploring the role of these resolutions, and their benefits, risks, strengths, and challenges.
The final virtual event will also be open to the public and will occur during Global Health Equity Week, October 24-28, 2022. This event will allow previous participants an opportunity to join breakout rooms and do deeper dives into the role of these resolutions, share resources, and examine next steps and actions related to the resolutions passed in their regions.
The role of the community screenings coordinator will be to reach out to and build participation for each event, listen to key stakeholders and local allies, create the invite lists, help to curate and produce these events, collect and synthesize event evaluation data, and conduct any follow-up that results from the screenings through the end November 2022.
Time Period: Preferably mid-June – November 30, 2022
Salary: This is a part-time position of approximately 5-6 hours/week at a rate of $ 50/hour. If we are able to raise additional funds, we would consider additional hours and/or a higher hourly rate.
The ideal candidate will have experience in community organizing, an interest in using film for social change, and have a demonstrated commitment to social and environmental justice with an emphasis on transforming local economies by supporting frontline community based organizations. We are looking for someone who has strong relationships with California-based frontline organizations and community leaders, and excels independently and also as part of a team.
Responsibilities include, but are not limited to:
Ideally, job applicants will have experience in and deep local connections to the interconnected worlds of environmental justice organizing, public health, and local and regional journalism (ideal, but not a must). 
This organizer would immediately: 
● Begin trust-building with frontline organizations and key stakeholders and brainstorming for the aforementioned events, most specifically the virtual listening session end of July.
● Maintaining these relationships throughout the course of the campaign
● Build relationships with journalists to create interest in writing about life expectancy gaps across the state 
● Ensuring the screenings and discussions remain aligned with the goals and timeline of BEYOND DECLARATIONS
● Assisting in distributing outreach and press materials = marketing/promoting the event/spreading the word
● Helping to design and produce each event with the team's support
● Maintaining a written narrative of the work done and a final description for reporting purposes.
Qualifications/Skills
● Self motivated individual with efficient and reliable time management and goal setting skills
● Experience in community outreach and organizing
● Demonstrated ability to work well collaboratively
● Strong problem solving and decision-making skills
● Strong group facilitation and interpersonal skills
● Strong verbal and written communication skills.
Location: Virtual
To Apply: Send an email to: Kathy@twosunsmedia.com about why you are interested in and qualified for this position.
About The Film
In Cooked: Survival By Zip Code (www.cookedthefilm.com), Peabody Award-winning filmmaker Judith Helfand takes audiences from the deadly 1995 Chicago heat disaster deep into one of our nation's biggest growth industries – disaster preparedness. Along the way, using her signature serious-yet-quirky connect-the-dots style, Helfand forges inextricable links between extreme weather, extreme wealth disparity, and extreme racism, daring to ask: "What if a ZIP Code was just a routing number, and not a life-or-death sentence?" The film is adapted from author Eric Klinenberg's ground-breaking book, HEAT WAVE: A Social Autopsy of Disaster in Chicago. After two national television broadcasts of Cooked: Survival By Zip Code on over 613 PBS channels reaching more than 1.5 million viewers, and over 100 in-person and virtual community screenings and discussions to date, we are launching this new, strategic engagement initiative. 
The Campaign: BEYOND DECLARATIONS
The gap in life expectancy between Black and White people in the United States is growing, and public health data reveals that these lifespan gaps track directly to ZIP Code. But, "What if a ZIP Code was just a routing number and not a life-or-death sentence?," asks Peabody Award winning filmmaker Judith Helfand. COOKED: SURVIVAL BY ZIP CODE, a feature documentary she produced and launched in 2020 in partnership with Kartemquin Films and Independent Lens, is her response. The latest engagement initiative, BEYOND DECLARATIONS California, extends the film's questions and conclusions into a public conversation that supports a local, regional, and national movement pushing for policy solutions that can help dismantle long-standing racist structures and their disparate impact on health outcomes.
***
According to the American Public Health Association, as of May 18, 2022, 240 jurisdictions across the country have signed resolutions declaring racism a public health crisis; 34 of them are in California. This movement is led by local changemakers and elected officials who are striving to hold accountable their jurisdictions, colleagues, mayors, county boards, and emergency response managers. Here is an analysis published by the American Public Health Association of the resolutions passed up through August, 2021.
But is passing a resolution or an official declaration enough to achieve substantial change? "Racism is a public health crisis because it undeniably shapes access to resources, services and opportunities that are critical to sustaining good health and well-being," said Tia Williams, Director of the Center for Public Health Policy of the American Public Health Association.
"Declaring it a crisis is a powerful first step in the movement to advance racial equity and must be followed with serious resources and strategic actions that are ongoing and heavily driven by communities of color."
The United States stands at a critical moment: for the first time in a generation, Americans are grappling in a meaningful way with the legacy of racism. New to the discussion is a growing awareness of the deleterious health effects of systemic racism. This moment offers a unique opportunity to transform state and local policies and systems to promote health equity and racial justice.
This is why the team behind COOKED: SURVIVAL BY ZIP CODE is partnering with Public Health Advocates (PHAdvocates) to launch BEYOND DECLARATIONS California, a project supporting communities to move beyond declarations towards implementing policies that eradicate structural racism and its inequitable effect on health.
"Urgent, prescient, and resonant, this film has the potential to bring together city and state leaders to see how and why declaring racism a public health crisis can inspire radical and necessary change. Our goal is to link the story on screen to the story in our state and combine our latest data-driven public health research with community engagement, investigative journalism, and compelling storytelling." – Harold Goldstein, Executive Director, Public Health Advocates.
With unprecedented federal and state funding allocated to address racial disparities in response to current public health crises, the time is ripe for a shift from crisis intervention to long-term structural change. These concomitant public health crises – COVID-19, extreme climate change and resulting forest fires, gun violence and a rise in race-related violence – are happening in California and across the country. But as a bellwether state that often shapes other state and national policy, California is the ideal place to launch this effort and serve as a model for other locations across the country.
"A wave of optimism swept throughout communities in California where government officials named racism a public health threat early in the pandemic. So many public acknowledgements of racism all at once were unprecedented. Now the challenge is to move from ceremonial pronouncements to enacting policies that help reverse the effects of that racism." From an article in CAPITAL & MAIN, "Racism Has Caused a Public Health Crisis in California. Now What?" 
***
Goals:
1. Inspire and support the policymakers, community-based organizations, and residents in California cities and counties that have declared racism a public health crisis to move beyond their resolutions, aligning concrete policies tied to actual budget line items that eliminate health disparities and embedded racist structures.
2. Encourage California jurisdictions that have not yet passed declarations to pass robust and accountable resolutions declaring racism a public health crisis by learning from jurisdictions already implementing change.
3. Engage local and regional multi-media journalists in California and nationally to report on efforts by residents, anchor institutions, mutual aid groups, policy makers, and epidemiologists–who are individually and collectively striving to address structural racism and the climate crisis as an inextricably connected set of problems. Our hope is that this reporting will raise public awareness, interest in, and support for robust and actionable resolutions and concrete policy change.
BEYOND DECLARATIONS will consist of decisive screenings and discussions curated to support the risk-taking commissioners, government officials, public health experts, and movement leaders who have advocated for and sponsored the declarations declaring racism a public health crisis, and who are now striving to build the political will to go from resolution to concrete policy. See Calls to Declare Racism a Public Health Crisis Grow Louder Amid Pandemic, Police Brutality (The Washington Post) and "Governments are Declaring Racism a Health Crisis. What Comes Next?" (Smart Cities Dive).
Community-based anchor institutions, by their very nature and mission, actively address racial and economic injustice every day in a myriad of creative, essential and strategic ways. And through that work, trusted social networks and community cohesion, critical to the vitality and safety of a neighborhood, is built up and sustained. This is why during COVID local frontline organizations were able to quickly mobilize and seamlessly transform themselves into rapid responders, delivering essential food, water, and PPE, and often helping residents obtain medical care. Because of the trust and networks they had built, these community-based organizations became the unofficial go-to resource for official disaster responders, such as Red Cross, local and regional public health departments and FEMA.
If there was ever a moment to not only "see" the deep value of this community-centered, rapid response work — and elevate and reframe it as a strategic and necessary form of disaster preparedness, response and recovery worthy of serious investment, it is now.
—–
Cooked: Survival By Zip Code is an equal opportunity employer and all qualified applicants will be considered for employment without regard to race, color, religion, sex, sexual orientation, gender identity, national origin, ability, protected veteran status, or any other characteristic protected by law.