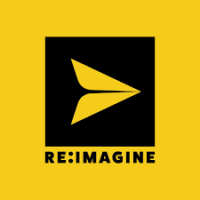 Website RE:IMAGINE
Employer: RE:IMAGINE
Location: Atlanta, GA / Hybrid work model requires 2 days per week in office and in-person meetings with partners
Salary: $70,000-$75,000 + medical, dental, vision benefits, 401k retirement plan, and unlimited PTO

Closing date: $70,000-$75,000 + medical, dental, vision benefits, 401k retirement plan, and unlimited PTO

Closing date: Mar 15, 2023
Background: RE:IMAGINE's mission is to equip the next generation of representative storytellers in Atlanta. Our vision is a safe, inclusive, and equitable workforce in the creative media industry. Founded in 2014, the organization builds bridges between working industry professionals and emerging talent — with a common goal to place students in sustainable careers. Through a lens of diversity and inclusion, RE:IMAGINE recruits and invests in youth from different ethnicities, races, socio-economic statuses, and gender to equip storytellers for careers in the creative media industries.
Position Summary: The Operations Director is responsible for management of team members, finances, and effective administrative operations for RE:IMAGINE.  The Operations Director acts as a second in command and works closely with the Executive Director to advance the organization's mission. This position will report to the Executive Director and manage a growing team.
Candidate Vision: The ideal candidate for this position is an energetic self-starter who is skilled at managing people, systems, and processes. The candidate is a problem solver who executes their duties with exceptional attention to detail and has a high degree of emotional intelligence and collaboration. The ideal candidate will bring critical and strategic thinking, operational and systems (CRM) expertise, and exceptional organizational skills. The candidate feels a connection to our mission and should be focused on building a culture of authenticity, equity, trust, and continuous improvement in service of our organizational mission and goals.
Responsibilities of this position include, but are not limited to:
Human Resources
Manage team member relations with a focus on equity, responsibility, and growth (including insurance coverage, policy updates, grievances, and separations). Manage employee payroll, benefits, policy updates.
Provide performance reviews and goal setting (familiarity with EOS, Entrepreneurial Operating System is a plus)
Reinforce and streamline onboarding for contractors
Equitably develop and manage vendor and contractor relationships, as needed, to support finance, operations, development, and programmatic functions.
Cultivate an organizational culture that supports RE:IMAGINE's vision and mission.
Legal/Compliance/Governance
Ensure that the organization adheres to policies, procedures, legal matters, and registration deadlines
Manages legal and tax responsibilities with IRS and accountant
Prepare and support process for annual external audit
Financial 
Work with ED to maintain organizational finances and expenses and monitor the budget accordingly.
Tracks donations in-kind as well as monetarily, thank supporters
Manage internal/external invoices and payroll
Responsible for monthly account reconciliation in Quickbooks
Monitor organization budget and cashflow
Manage grant budgets
Events/Space Management
Work with Community Manager and Development Manager to ensure the financial and legal aspects of the events are in compliance
Equip staff with necessary supplies and technology. Ensure equipment is managed well.
Ensure facilities are in compliance with lease agreements, utility requirements, and licenses/registrations
Requirements:
Financial accounting experience
Systems creation and management
Strong leadership skills
Ability to make quick and vital decisions
Strong written and verbal communication skills
Familiarity with Quickbooks, Excel, Google Docs
Comfort with online tools, such as Slack, Airtable, Hubspot, EOS
We're Looking For Someone Who Is:
Self-motivated
Organized
Empathetic
Experience working in a startup environment
Proactive
People-driven
Team-player
Flexible
Type: Full-time
Reports to: Executive Director
Compensation: The salary range for this position is $70,000 – 75,000 annually. Benefits include: Healthcare coverage (RE:IMAGINE contributes $400/month), $200 stipend annually for eyecare, Great Expressions Dental Care Plan, 401k retirement account (with up to 4% match), unlimited paid time off, and professional development fund.
Schedule: This is an exempt position with standard working hours, Monday through Friday, along with pre-scheduled evening and weekend work expected on occasion.
Location: Our office is located in Reynoldstown, just a block from the Beltline and walking distance to new restaurants and parks. The position requires two days per week of in-office and in-person meetings with funders/partners (sometimes off-site or at the partner/funders' office). Reliable transportation, phone, computer and internet access is required.
To Apply: Please send a cover letter and resume in PDF format to hiring@reimagineatl[dot]com with subject line: "Operations – lastname."
Cover letter should detail your interest in this position, including:
How are you uniquely equipped for this position?
Why are you looking for a new position?
Why do you feel connected to the work and mission of RE:IMAGINE?
RE:IMAGINE does not make hiring decisions on the basis of race, ethnicity, national origin, gender, gender identity, sexual orientation, socio-economic background, age, disability, religion, political affiliation, or ideology.