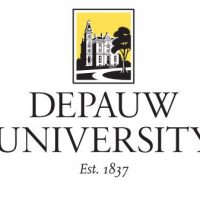 Website DePauw University
Gold Within.
Assistant Professor in Screenwriting/Television Writing (and Digital Production), Tenure-track
Review of Applications:
Open until filled. Completed applications received by October 24th, 2022 will receive full consideration.
Position Description:
The Film and Media Arts Program at DePauw University invites applications for a full-time, tenure-track Assistant Professor in Screenwriting/Television Writing (and Digital Production) to begin in fall of 2023. Preference will be given to candidates with an MFA in Dramatic Writing (Screenwriting and/or Television Writing), Film, or closely-related field. We seek a teacher/screenwriter committed to undergraduate teaching and mentoring, with an established or emergent professional profile. Successful candidates should have significant writing experience in one or more of the following forms: series narratives, limited series, and/or feature film (theatrical, streaming, independent, and/or broadcast/cable television). Since this position will occasionally include teaching production, the candidate should be able to demonstrate production competency (e.g., evidence that confirms their ability to teach production, experience in short film, television, or other media production, and/or willingness to expand production skills through faculty development funding).
Candidates must be able to offer courses that introduce and center the scriptwriting, filmmaking, and lived experiences of people from historically marginalized and/or minoritized communities, especially but not limited to a U.S. context. Of particular interest are candidates whose own creative work centers the lived experiences of people from historically marginalized and/or minoritized communities and/or the intersection of race, sexuality, gender, class, and/or nation.
DePauw's Gold and Bold 2027 Strategic Plan includes launching a new school that focuses on Creative practice and a School of Business and Leadership. To help us launch these schools, we seek a cohort of faculty with experience at a range of institutions, including international institutions, HBCUs and HSIs. We further seek candidates who bring diverse perspectives and who can integrate traditional liberal arts approaches (e.g., critical thinking; ethical reasoning; connecting disciplines to domestic issues of diversity, equity and inclusion as well as to global perspectives; interdisciplinarity; written and oral communication) into their courses. Contributions may be made through inclusive pedagogies, inclusive syllabi, and/or through contributions to interdisciplinary programs that diversify DePauw's curriculum (e.g., Africana Studies, Asian Studies, Hispanic Studies, Global Health, Women's Gender and Sexuality Studies). A complete list of academic programs is available here. The Film and Media Arts program will be launched in fall of 2023, expanding DePauw's current Film Studies program.
Position Responsibilities:
The selected applicant will teach six classes annually (3/3 load) and a 0.5 credit extended studies course (Winter or May term) once every three years, cultivate and maintain a robust professional presence in their field, and engage in service to the Film and Media Arts program and the University (i.e., teach film-related First-year Seminars of their own design, advise students, serve on program and University committees, and work collaboratively and productively with colleagues across the arts and the University). Teaching assignments include Screenwriting, Television Writing, Writing for the Screen topics courses, topics courses according to the applicant's interests/specializations, occasional digital production courses and the Film and Media Arts Senior Capstone Seminar (a two-semester experience in which students produce a short film, feature-length screenplay, television script, other lengthy media script, or scholarly paper).
About DePauw University and the Film and Media Arts Program:
DePauw University is a leading, nationally-recognized liberal arts university dedicated to educating just over 1,600 highly talented, motivated, and diverse students from across the country and around the globe. Connected to the liberal arts college is one of the nation's first Schools of Music. For 185 years, DePauw has created an atmosphere of intellectual challenge and social engagement that prepares students for lifelong success. Located in Greencastle, Indiana, about a 45-minute drive west of Indianapolis, DePauw is a member of the Great Lakes Colleges Association. DePauw has an ongoing commitment to diversity and seeks to strengthen our institution through equitable and inclusive practices. Please see this profile for more information about DePauw University.
The evolving Film and Media Arts Program at DePauw University empowers graduates with rich analytical, screenwriting, and production skills so they may work with storytelling technologies in an increasingly diverse and multidisciplinary arts culture/industry. Courses in production and writing for the screen are balanced by courses in film and media theory, history, representation, and interpretation, in an interdisciplinary, collaborative, and inclusive learning environment. All program courses seek to make connections between artistry, cultural, theoretical and historical awareness, and production or craft choices and technique.
Application Instructions:
Completed applications received by October 24th, 2022 will receive full consideration; applications received after that date may be considered until the position is filled. Please submit a cover letter; CV; 2-page teaching statement (which should include a discussion of teaching philosophy or approach, courses the candidate has taught as well as courses the candidate would like to teach, and ways in which anti-racism and a commitment to fostering an engagement with a diversity of ideas and experiences figure into pedagogical practice); terminal degree transcript(s); and three letters of recommendation via Interfolio. Additional supporting documents (i.e. samples of creative work and evidence of teaching effectiveness) will be requested after initial review. Please contact Chris White (she/her), Director of the Film and Media Arts Program, at chriswhite@depauw.edu with any questions.
Affirmative Action Policy Statement:
DePauw University, in affirmation of its commitment to excellence, endeavors to provide equal opportunity for all individuals in its hiring, promotion, compensation, and admission procedures. Institutional decisions regarding hiring, promotion, compensation and admission will be based upon a person's qualifications and/or performance without regard to race, color, creed, religion, national origin, sexual orientation, disability, age, gender, gender identity or gender expression, except where religion, gender, or national origin is a bona fide occupational qualification.
DePauw University's goals and commitments are best served if the institution reflects the diversity of our society; hence, DePauw seeks diversity in all areas and levels of employment and abides by all local, state, and federal regulations concerning equal employment opportunities. The University admits, hires and promotes individuals upon their qualities and merits.