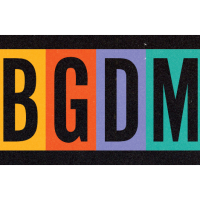 Brown Girls Doc Mafia
Advocating for BIPOC women and nb filmmakers in the doc industry
Start Date:  April 2023
Location: Remote daily work with occasional in-person meetings, events, travel). Candidates based in NYC, LA, Bay Area, Chicago, or the US South preferred
Type: Full Time position (32-40 hours/week)
Salary: $60,000 – $70,000/year, commensurate with experience
Perm: This role is expectation of full-time (W2) employment with a comprehensive benefits package.
Equal Opportunity Employer: At BGDM we celebrate diversity and champion equity and inclusive hiring practices.
Deadline: Applications due April 9th https://browngirlsdocmafia.org/careers
THE ROLE
The Community Programs Manager is a central position at BGDM that will work across departments to nurture and maintain our beloved membership community. We are excited to hear from candidates with 2-4 years of experience in membership organizations, arts institutions, community activism spaces, event planning, or other transferable areas. Candidates who delight in uplifting and resourcing creatives will thrive in this role. They should be a "people person" who has a knack for identifying synergetic connections between folks, and has the bravery and intentionality to rally members around a cause, event, or conversation. Candidates should be thoughtful, motivated, organized, and clear communicators. Primary Responsibilities below.
COMMUNITY MANAGEMENT
Serve as the primary community builder for BGDM's private social network on Mighty Networks with a goal of increasing member engagement. Duties include active moderating, posting, commenting, creating valuable connections between members, sharing resources, and liaising member needs to staff
Oversee member recruitment and onboarding into the community including membership drive, appreciation, and retention campaigns
Collaborate with the Advocacy and Communications teams to diligently track members' creative projects, professional pursuits, and other data to understand how BGDM may highlight them and their work, and how we can serve the community's needs with programs, events, and resources
Identify hot topics and key issues that matter most to our members and collaborate with leadership to strategize engagement and responsive programming
Continuously look for ways to improve and innovate systems within the Mighty Networks platform and beyond to deepen member experience
Collaborate with the Communications team in the back-end administration and organization of Mighty Networks
PROGRAMS & EVENTS
Develop and implement programs that address members' creative, professional, and holistic development needs including BGDM Mastermind and other initiatives
Organize year-round virtual and regional in-person events to bring our community together including regional meet-ups, festival events, and virtual gatherings
Coordinate info sessions about BGDM's programs, grants, and industry opportunities that benefit members
Coordinate volunteers and guest speakers; build schedules and other event production materials; outreach and maintain partnerships and vendors
ADMIN, RESEARCH & DATA MANAGEMENT
Maintain membership data on CRM software (Neon), Mighty Networks and Airtable
Maintain and build out BGDM's pool of educational resources housed in Mighty Networks
Work closely with the Development and Communications teams to implement BGDM's upcoming revised membership model as well as seasonal fundraising campaigns
Manage all community program and member event communications. Request and collect testimonials and feedback from the community about BGDM's programs and the industry at large. Write reports and program summaries for fundraising and board use
PREFERRED SKILLS & EXPERIENCE
Demonstrated understanding of the racial, social, and gender based challenges our members face and demonstrated comfort with activism, coalition building, and challenging systems
Excellent planning and project management skills, and ability to take initiative, set and respond to priorities, and drive projects forward from conception to completion within organizational goals and strategies
Filmmaking/production experience is a plus!
Speaking multiple languages is a plus!