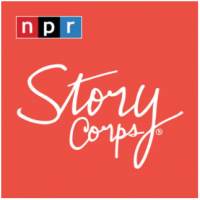 Website StoryCorps StoryCorps
Listen.Honor.Share
ABOUT ONE SMALL STEP
At this moment, our country feels increasingly disconnected—our mutual distrust amplified by everything from social media to the efforts of forces seeking to weaken the foundations of our democracy.  Many Americans feel unheard, alone, and angry.
Founded in 2003, StoryCorps has perfected a simple method for helping people feel more connected and less alone; for increasing hope and decreasing fear of the other; for reminding us all of the inherent worth of every person and every story.  Up to this point, almost all of the people who have come to participate in StoryCorps have done so because they know and love one another.
With the One Small Step initiative, StoryCorps is fostering conversations between people who hold different worldviews.  Participants don't come to argue about politics, but simply to get to know one another as human beings, to take one small step towards each other and remember there is more that unites than divides us.
THE ROLE
This role centers on matching and scheduling participants for the One Small Step program. The One Small Step Initiative brings together people of varying backgrounds and beliefs to have conversations across differences.  The scheduler is responsible for selecting individuals to participate and matching them with individuals who have opposing views.  All correspondence and scheduling will be handled by the scheduler. Applicants must exhibit a strong customer service background and have a willingness to engage with people from all walks of life with equal empathy and consideration. The ideal candidate will have a genuine interest in bridging divides work, a strong attention to detail, come from a conservative area, and understand how to connect with individuals across the political spectrum.
Operating under the direction of StoryCorps' Manager, Community Partnerships – OSS, and with input from the One Small Step Director, the One Small Step scheduler and Outreach Specialist will assist in matching and scheduling One Small Step participants as well supporting relationships with our partners and running the logistics of our recording engagements. The scheduler will help to support the interview collection goals at a scale that will make the initiative into a national effort to bring the country closer together.
This is a temporary role, scheduled to end in December 2022.
WHAT YOU'LL DO
Match and Schedule OSS participants
Prepare participants over the phone for their recordings
Confirm participants understand the technical requirements for virtual appointments
Ensure all forecasted OSS interviews are recorded by the end of your term of employment period
Assist the Manager, Community Partnerships (OSS) in the development and implementation of OSS-specific training and resources for community-based organizations and StoryCorps staff
Support the Manager, Community Partnerships in submission of reports for StoryCorps funders, OSS operations team, and StoryCorps senior management
Perform other duties to support One Small Step, as assigned
ABOUT YOU
You communicate effectively – by email, phone, or in person
You're organized, have a keen attention to detail, and you're able to multitask effectively
You have strong computer skills and proficiency in Microsoft Office and Google Drive
You are able to work independently as well as collaboratively
You demonstrate cultural humility and thrive in a diverse working environment
PREFERRED SKILLS & QUALIFICATIONS
You are fluent in a language other than English; Spanish highly preferred.
Job Title: Temporary Scheduler, One Small Step (OSS)
Department: Programs
Division: One Small Step
Location: Remote
Reports To: Manager, Community Partnerships, One Small Step
Status: Full-Time, Temporary, Exempt