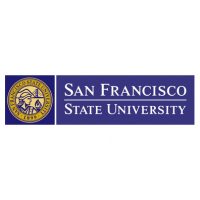 Website San Francisco State University
Assistant Professor, Fiction Directing, School of Cinema
Job no: 505315
Work type: Instructional Faculty – Tenured/Tenure-Track
Location: San Francisco
Categories: Unit 3 – CFA – California Faculty Association, Faculty – Fine/Performing Arts, Tenured/Tenure-Track, Full Time
Introduction
San Francisco State University School of Cinema offers an exciting opportunity for a tenure-track Assistant Professor position in Fiction Directing beginning August 2022. We seek a colleague with notable experience working with actors and bringing a director's vision to the screen. Of particular interest are filmmakers whose work foregrounds the stories of Black, Latinx, Indigenous, AAPI, BIPOC, LGBTQIA+, and/or Disabled communities. Demonstrable experience in related aspects of filmmaking—such as screenwriting, cinematography, producing, or episodic storytelling—is also desirable. We are especially interested in qualified candidates with a demonstrated commitment — through their research, teaching, and service — to the diversity and excellence of our academic community/department/program.
Founded during the political activism and artistic experimentation of the 1960s, the School of Cinema fosters and champions cinematic expressions that challenge social and artistic norms, take creative risks, promote social justice, and express the diversity of human experience. The School of Cinema has been recognized for multiple years as one of the top 25 film schools in the United States, according to The Hollywood Reporter, The Independent, and Filmmaker, with a distinguished faculty of award-winning documentary, fiction and experimental filmmakers, and scholars specializing in feminist theory, international and American cinema, sexuality studies, and film sound/voice. The School serves more than 50 graduate students (MA and MFA) and more than 900 undergraduate majors whose work has been distinguished by honors ranging from scholarly publication and conference presentations to creative recognition via numerous Princess Grace Awards, official selection in the Sundance Film Festival, Cannes Film Festival, SXSW, Frameline, the Flaherty Seminar, and many others.
The mission of San Francisco State University is to create and maintain an environment for learning that promotes respect for and appreciation of scholarship, freedom, human diversity, and the cultural mosaic of the City of San Francisco and the Bay Area; to promote excellence in instruction and intellectual accomplishment; and to provide broadly accessible higher education for residents of the region and state, as well as the nation and world. To fulfill its mission, the University is committed to the following goals:
Attracting, retaining and graduating a highly diverse student body
Providing disciplinary and interdisciplinary liberal arts and professional education that is academically rigorous and intellectually challenging
Providing curricula that reflect all dimensions of human diversity, and that encourage critical thinking and a commitment to social justice
Recruiting, retaining and supporting a diverse faculty whose teaching demonstrates an active engagement with their individual fields of study and whose creative and scholarly work is an extension of the classroom, laboratory or studio
Employing a staff and administration reflecting the diversity of our student community and the values of the campus;
Fostering a collegial and cooperative intellectual environment that includes recognition and appreciation of differing viewpoints and promotes academic freedom within the University community; and
Serving the communities with which its students and faculty are engaged.
Responsibilities
The position requires undergraduate and/or graduate teaching in fiction filmmaking; mentoring and advising undergraduate and/or graduate students; developing and maintaining a robust program in fiction film directing; and ongoing committee and service assignments.
Qualifications
Required:
M.F.A. or equivalent terminal degree in Cinema or related field. Terminal degree must be completed by the first day of employment.
Active record of fiction filmmaking in the position of director or writer/director with a body of peer-reviewed film work that foregrounds the stories of Black, Latinx, Indigenous, AAPI, BIPOC, LGBTQIA+, and/or Disabled communities.
Preferred:
Record of teaching contributions in the areas of: fiction filmmaking; working with actors; bringing cinematic vision to the screen; leading pre-production, production, and post-production; screenwriting; or related areas
Active film work with a record of exhibition (i.e., film festivals, streaming platforms, theatrical runs) and recognition (i.e., reviews, awards)
Demonstrated ability to incorporate inclusion, diversity, and educational equity in teaching and/or scholarship and/or creative works
Experience teaching and working closely with students from historically under-represented communities
Record of contributing to supportive and collaborative work environments
Rank and salary
Assistant Professor. Salary commensurate with qualifications and experience. The California State University (CSU) provides generous health, retirement, and other benefits.
Application
A complete online application must be submitted to receive consideration. To apply, upload the following materials:
Letter of intent (relating your experience to the required qualifications)
Curriculum vitae
A diversity statement (no more than 500 words) that provides an understanding of your capabilities to address diversity in support of SFSU's diverse student and community populations. Please discuss how you have addressed diversity in your teaching, research, or service.
A statement of your teaching philosophy (no more than 750 words).
Up to three (3) samples of creative work demonstrating your work as a fiction film director. Streaming links preferred.
Contact information for three references. Letters of recommendation upon request at a later date.
Application review begins Monday, November 8, 2021. Please direct all questions about the position to: Scott Boswell, Associate Professor, at sboswell@sfsu.edu.
To apply, go here: https://careers.pageuppeople.com/873/sf/en-us/job/505315/assistant-professor-fiction-directing-school-of-cinema
San Francisco State is an Equal Opportunity Employer and does not discriminate against persons on the basis of race, religion, color, ancestry, age, disability, genetic information, gender, gender identity, gender expression, marital status, medical condition, National origin, sex, sexual orientation, covered veteran status, or any other protected status.  Reasonable accommodations will be provided for qualified applicants with disabilities who self-disclose by contacting the Senior Human Resources Manager.
Advertised: September 27, 2021 (9:00 AM) Pacific Daylight Time
Applications close: Open Until Filled