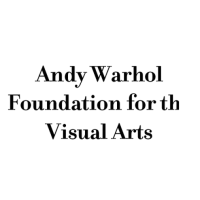 Website The Andy Warhol Foundation for the Visual Arts
The Andy Warhol Foundation for the Visual Arts was established in 1987. In accordance with Andy Warhol's will, its mission is the advancement of the visual arts.
Andy Warhol Foundation for the Visual Arts
Communications Manager, Job Description
Overview:
The Communications Manager is responsible for both developing and aligning the Foundation's communications strategies with its mission and its programs to local, regional, national and international media, as well as to other important constituencies that may disseminate news and information about the foundation's activities. The position encompasses a broad range of communications responsibilities including media relations, management and oversight of warholfoundation.org, the foundation's social networking presence, and the overall development of the foundation's digital communication's strategy.  Of primary importance is ensuring a dynamic and engaged public image for the foundation in all communications efforts, including promoting the artistic/intellectual values of the foundation and highlighting the work done by its grantees and partners across the country.  In addition to working closely with all departments at the foundation, the position has considerable contact with the public and the foundation's board of directors.
Requirements:
Minimum of seven to ten years senior level experience in public relations/communications, preferably in the visual arts and with a non-profit institution; well-developed contacts with international, national and local editors and journalists in all media; expertise in planning media strategies, including both traditional and social media/new media strategy and implementation; solid understanding of graphic design, print production and web site management. Must be able to handle all aspects of the foundation's digital media presence and be able to strategize appropriately and effectively.  Excellent written and verbal communications skills, effective interpersonal and collegial skills; must be able to represent the foundation effectively as a spokesperson to various media outlets. Bachelor's degree required; Bachelor's degree in art, art history, communications, or related field, preferred. Thorough knowledge of contemporary art along with awareness about greater trends in philanthropy, non-profit organizations, and the art world is essential.
Essential Functions:
In consultation with members of the board, President, and key staff persons, develop, implement and manage a comprehensive communications plan, which integrates all foundation activities and directs them towards specific institutional goals. Build and monitor programs and recommend modifications, as appropriate.
Establish and develop AWF's digital strategies; which will ensure that the foundation has a strong online presence.
Supervise all aspects of foundation's media relations. Initiate opportunities to strengthen the foundation's public profile through all media avenues on a local, national, and international level. Establish and maintain good relationships with representatives of the local, national and international art media community in developing extensive coverage of funded projects, foundation-initiated programs, licensing partnerships, publications, and other foundation activities.
In consultation with the President and key staff members, shape public statements including those concerning foundation policy, positions on current issues affecting the foundation, artists and organizations, and other matters the foundation deems relevant. Serve as official spokesperson in absence of or in lieu of the President, depending on the importance of the situation. Advise the President and staff on public relations implications of organizational policy and program decisions.
Establish and oversee the foundation's digital strategy, web site, online initiatives, and its profile and activity on social networking platforms. Supervise the editing of relevant foundation copy in print and on digital platforms.
In consultation with the President, manage and supervise relationships with external designers and agencies, manage design budgets and timelines, and act as internal creative director for all materials produced to ensure they meet the guidelines of the foundation identity and branding.
Work in partnership and meet regularly with the Program department to discuss promotional strategies for exhibitions, and other programs and events funded by the foundation. Additionally, work with individual organizations to coordinate on media strategies and publicity efforts to highlight foundation-funded projects as appropriate.
Develop and maintain budgets for all communications activity.
Foster and maintain network of contacts with PR counterparts at arts organizations locally, nationally and internationally, including marketing and communications directors of other foundations, arts organizations and communications professionals in the philanthropic sector.
Develop and distribute timely internal communications for staff and board concerning upcoming exhibitions funded by the grants program (especially those in the NY-region) as well as upcoming licensing department launches and partnerships that may be of interest.
The above statements are intended to describe the general nature and level of work performed by individuals assigned to this position; they do not purport to describe all functions of the position. Employees may be assigned other duties and the essential functions of the position may change or be changed as necessary.
The foundation values inclusivity and aims to reflect the true diversity of the contemporary art field. Applications from women, people of color, and those from under-represented communities are encouraged.
Nominations and applications will be accepted until the position is filled.
Interested parties should reply to kc@warholfoundation.org; no calls, please.
October 2017